Super Bowl is the annual Sunday feast for your eyes and for your belly. If you've just turned to plant-based diet or would like to explore somewhat healthier party snack options, here are a few vegan Super Bowl bites to devour while the game is on.
And even if you're not that into sports, take it as a socially-acceptable way to procrastinate. We all deserve to chill and relax sometimes with a group of friends and family. Also, see this year's Super Bowl as a great opportunity to introduce the awesome vegetarian food to your beloved ones. Maybe they'll get hooked?
Savory vegan super bowl recipes
 1. Tropical salsa with chips
Makes ~ 3 cups.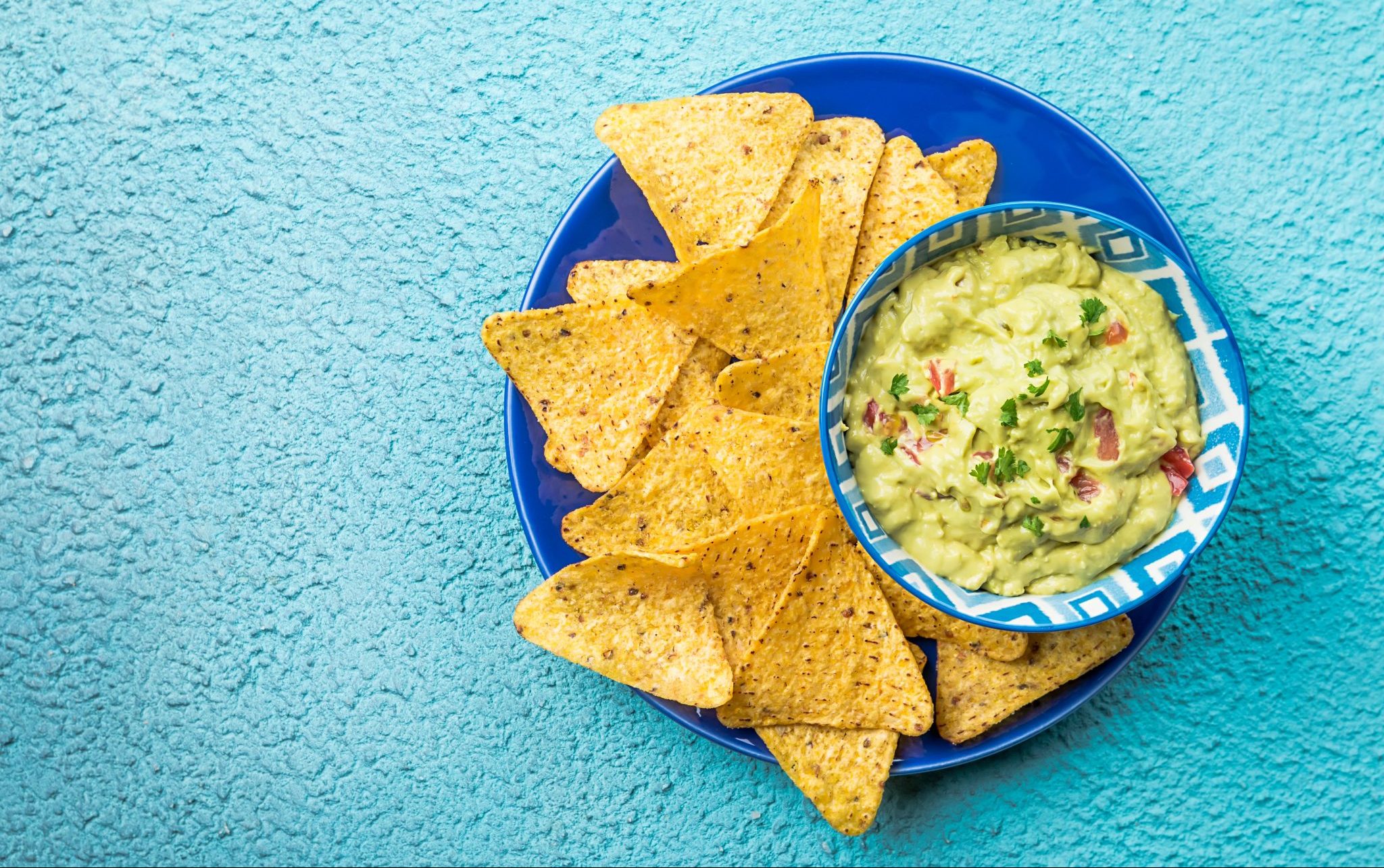 Ingredients: 
1 Tbsp fresh ginger, peeled and chopped
1 jalapeno, chopped
1/2 clove garlic, chopped
Salt to taste
1 cup fresh pineapple, finely chopped (and some for garnish)
1/2 cup fresh coriander leaves, chopped (and some for garnish)
1/4 cup red onion, chopped
1/2 cup grape tomatoes, quartered
2 ripe avocados, peeled, seeded, and chopped
2 tablespoons fresh lime juice
Sweet potato, blue corn, plantain, or natural potato chips for dipping
Instructions:
With a large knife chop ginger, jalapeño, and garlic until they're minced together. Add some salt and keep mincing until you get a coarse paste.
Pour the paste into a bigger bowl and add the chopped pineapple, coriander, onions, tomatoes, and avocados. Add lime juice and some more salt to taste. Mix everything together.
Put the salsa into a refrigerator for a few minutes to nicely cool off.
When ready to be served, transfer your salsa into a nicer bowl, garnish with pineapple and coriander springs. Serve with chips for dipping. 
2. Cheese-flavored black bean dip
Makes ~ 2 cups.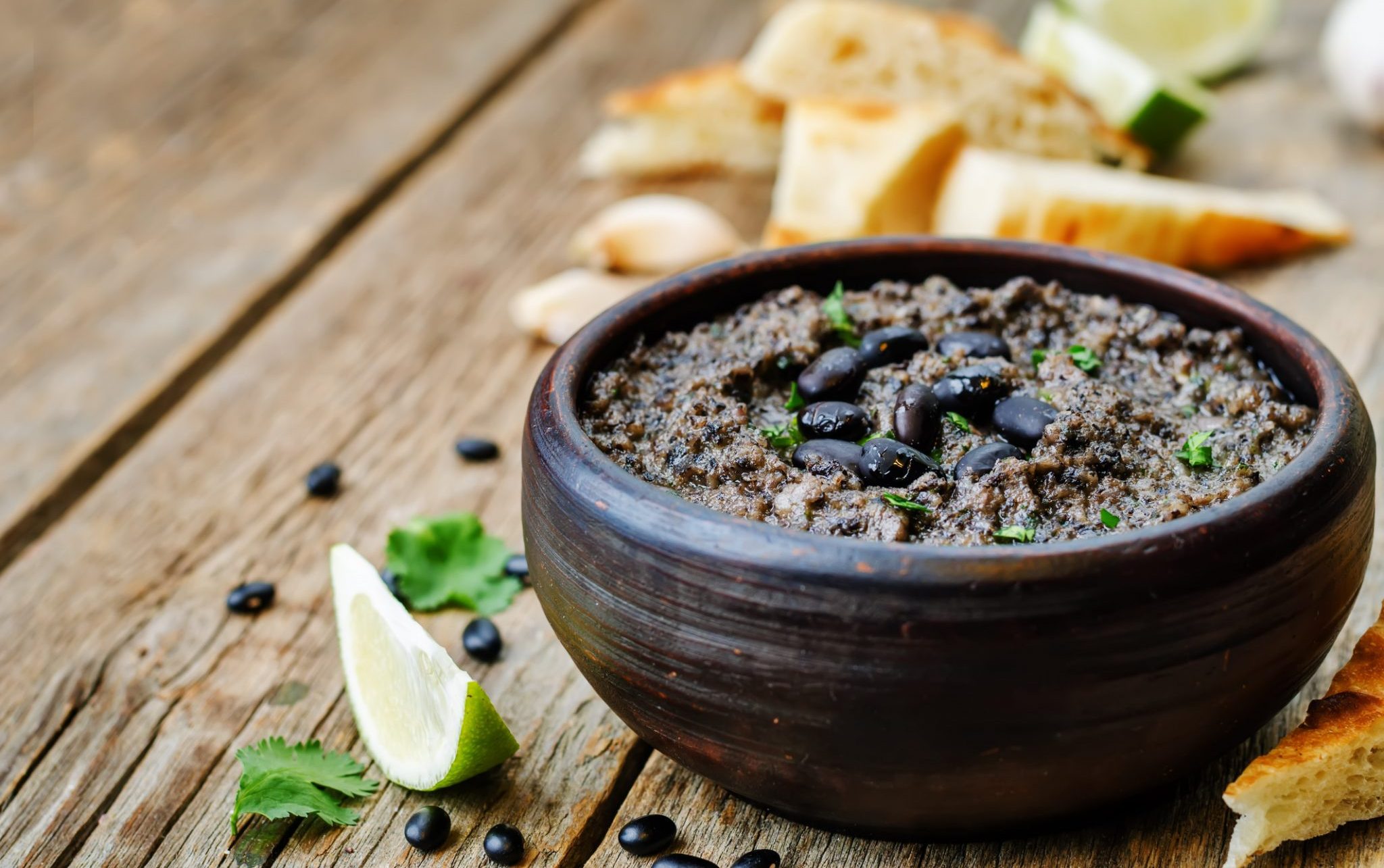 Ingredients: 
15-oz. can black beans, well rinsed and drained
1 Tbsp extra virgin olive oil
3 Tbsp nutritional yeast
3 Tbsp water
3 Tbsp fresh lemon or lime juice
1/4 tsp salt
some fresh herbs for garnish
Corn chips or a selection of fresh veggies for dipping 
Instructions: 
Pour everything into a food processor or a blender and mix them all together into a creamy paste. If it's too thick, add some more water.
Taste to see if you wish to add some more salt, lime juice, or nutritional yeast.
Chill it in a fridge for up to half an hour.
Garnish with fresh herbs and serve with chips or a selection of fresh veggies, such as carrots, bell peppers, cucumbers.
Sweet Super Bowl vegetarian recipes
3. Sweet apple nachos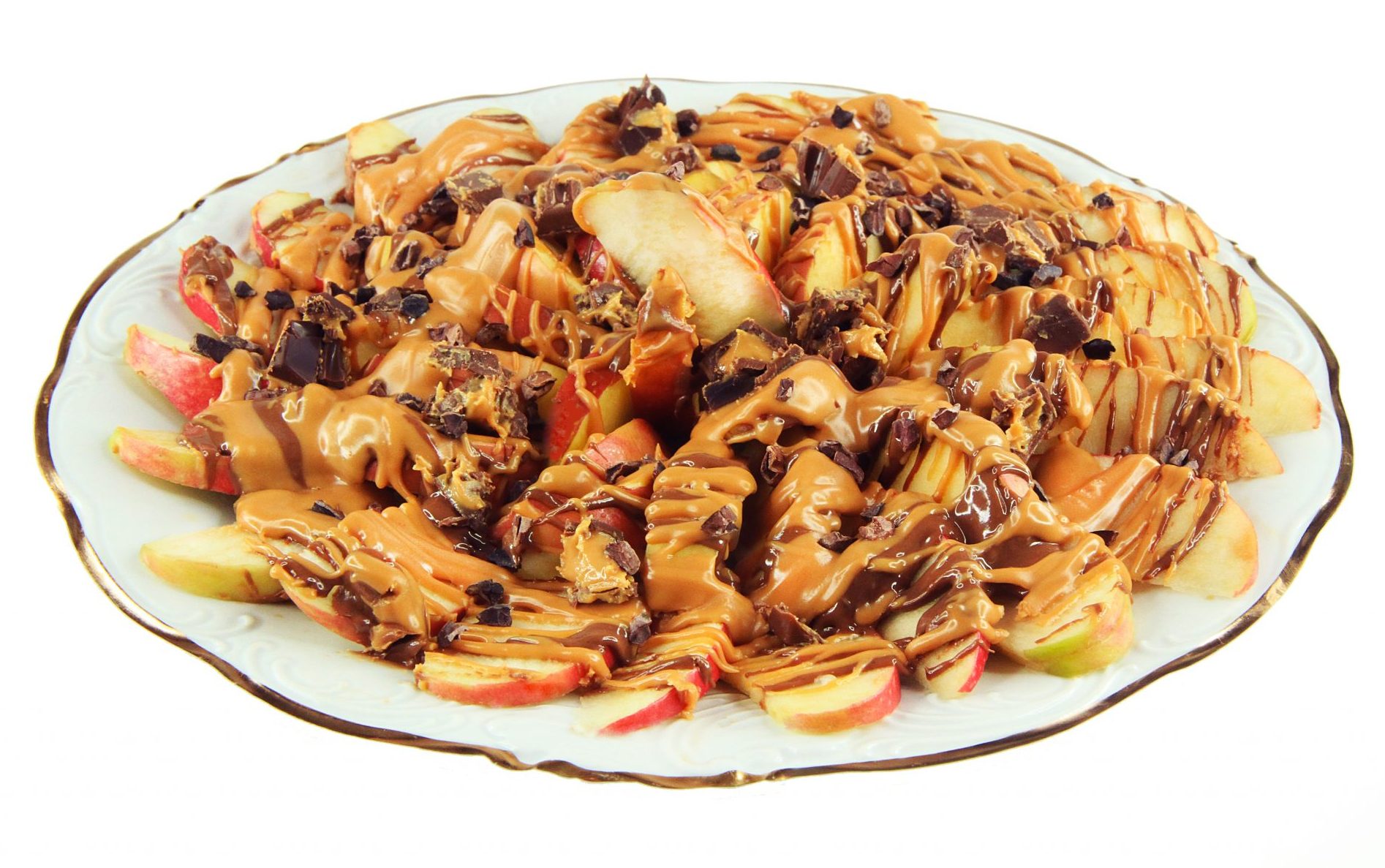 Ingredients:
3 crispy and slightly sour apples
1 tsp lemon juice
3 Tbsp creamy natural peanut butter (look for 100% peanuts)
1/4 cup sliced almonds or almond flakes
1/4 cup pecans
1/4 cup flaked unsweetened coconut
1/4 cup vegan chocolate chips
Instructions:
Carefully slice the apples -- the bigger you can get them, the more topping they will carry to your mouth! Make sure not to make them too thin, because they'll break.
Sprinkle some lemon juice on apples slices to keep them from turning brown.
Lay the slices on a wide plate.
Spread the peanut butter, coconut flakes, almonds, some pecans, and chocolate chips on top.
You can serve it either chilled or just the way they are.
4. Golden caramel popcorn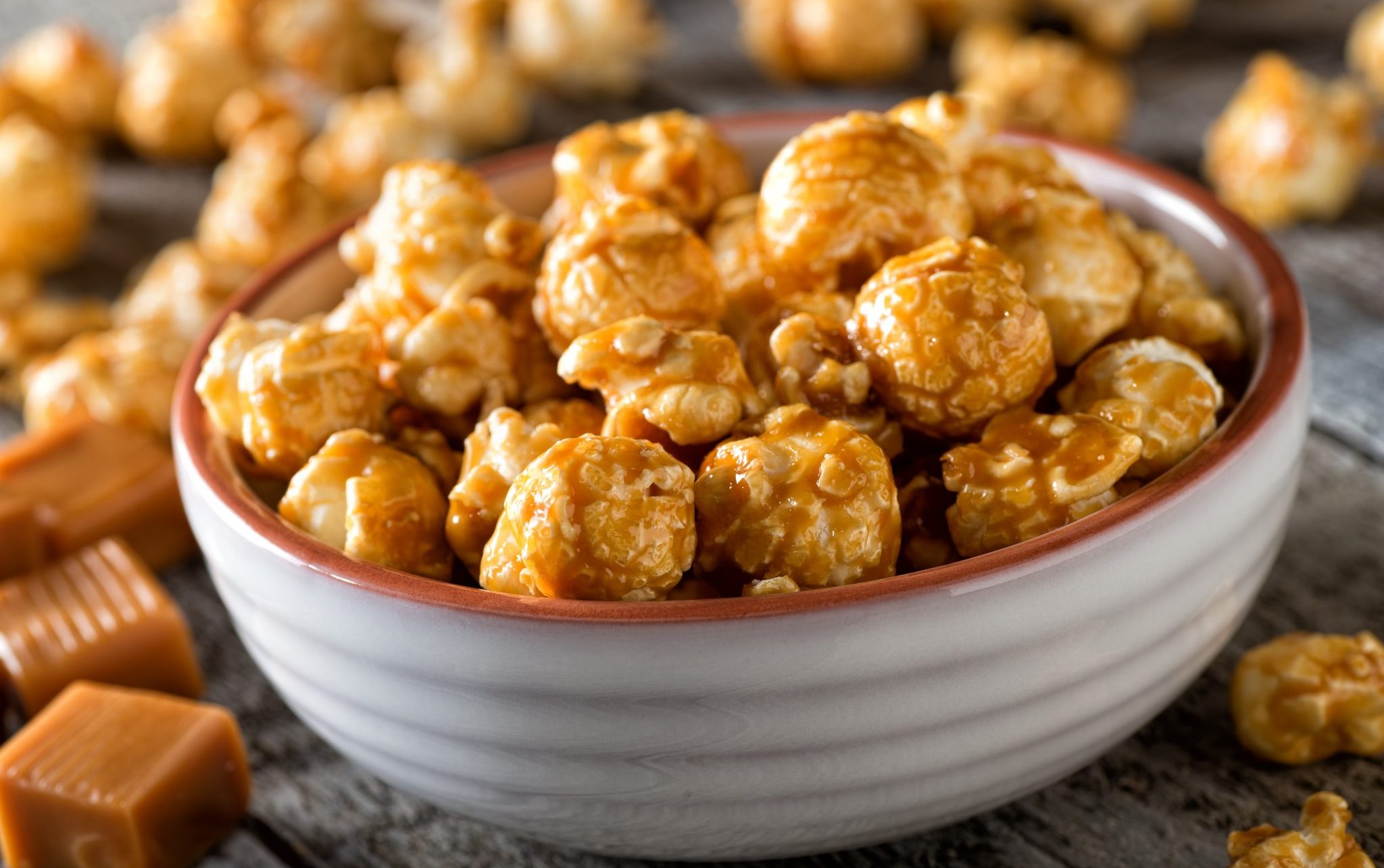 Ingredients:
 2 Tbsp coconut oil
1/2 cup corn kernels (look for organic option)
1/4 cup agave nectar or maple syrup
1/2 cup light coconut milk (canned)
1 tsp pure vanilla extract
1/8 tsp salt
Instructions:
To prepare the popcorn:
Preheat a medium-sized pot on a medium-high heat. Add coconut oil and 2-4 corn kernels for testing. Close the lid.
Whenever you hear the kernels pop, it means the oil is ready. So add the rest of the kernels, shake and mix them so that they're all covered in oil and close the lid immediately.
Shake the pot with a closed lid from time to time to keep the popping going. When you hear it slowing down, pour the popcorn into a big bowl and set aside.
To prepare the sauce:
Return the pot to a medium-high heat (make sure there are no popcorn leftovers) and add your agave nectar or maple syrup. Let it boil and cook for 2-3 minutes. Mix it occasionally so it doesn't burn. It should turn darker – that's a very good sign.
Then add coconut milk, vanilla, and sprinkle the salt. Mix it all together.
Again, bring it to a boil, reduce the heat to medium-low and slowly cook the sauce until it's thick and dark. Don't forget to stir occasionally. It shouldn't take longer than 20 minutes.
Whenever it's ready, drizzle the hot caramel sauce over the popped corn and gently mix it with a wooden spatula. Better to pour slowly or in portions while mixing at the same time.
Line a dish with a parchment paper or aluminum foil and pour the mixture in. Freeze it for 10 minutes. This makes the caramel crisp and crunchy, without ever freezing, really.
Remove from the freezer, break the popcorn into smaller pieces and serve.
In case you want to make more and keep it for future fiestas, you can leave it frozen for up to 3 months.