On a steamy summer day, the last thing you want to do is spend time cooking over a hot stove. But wouldn't it be nice to have some healthy summer snacks on hand to get you through the hot weather?
I've got you covered! Here are 20 of our best hot weather snacks that are easy to prepare, don't require an oven, and taste delicious.
1. Ants on a Log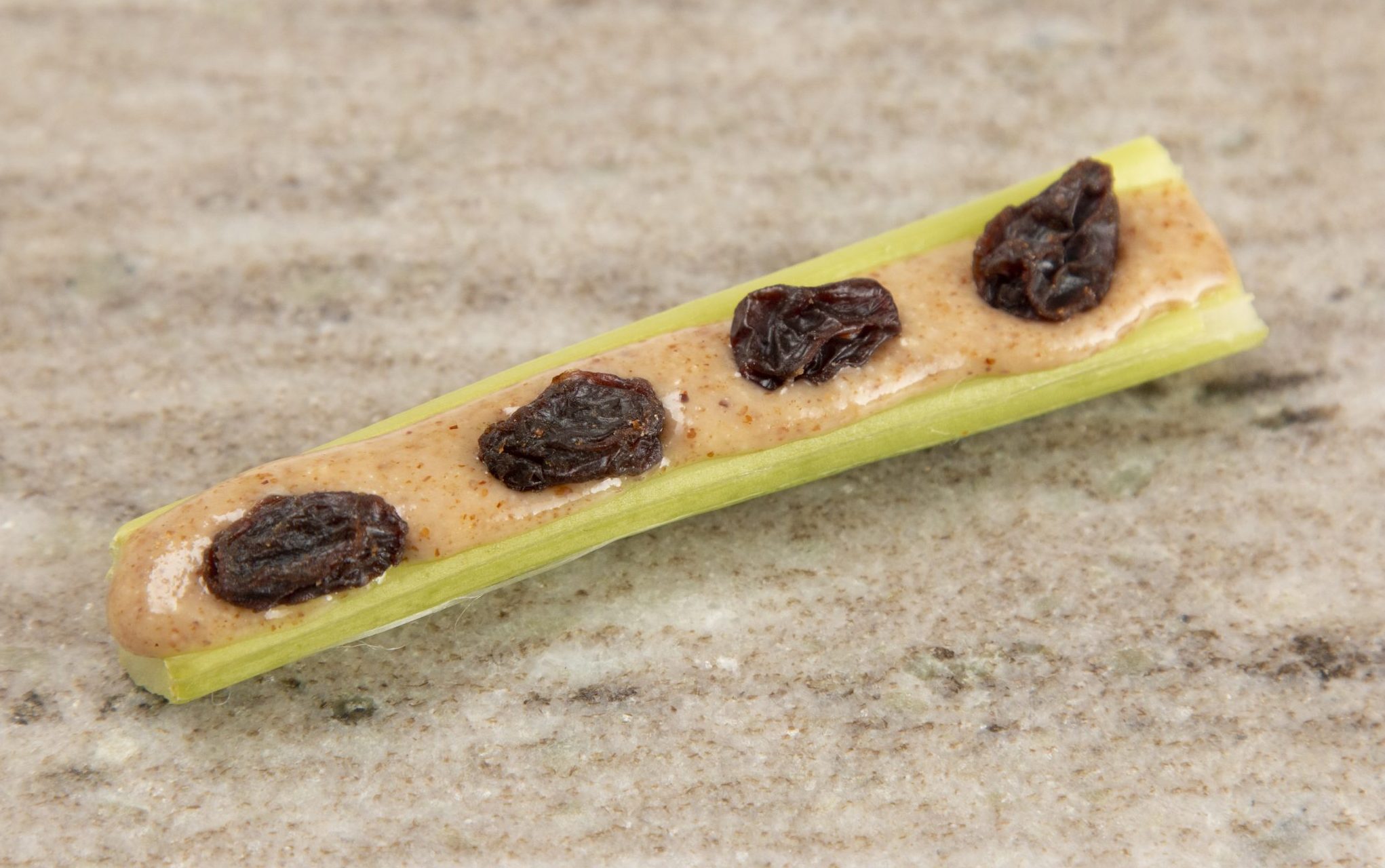 Ants on a log, made with celery sticks, peanut butter, and raisins, is a classic snack. Celery is over 95% water and can help you stay hydrated on a hot summer day. Plus, this snack provides protein and fiber to keep you full.
Feel free to mix up your ingredients, by subbing in almond or cashew butter for peanut butter and dried cherries or apricots instead of raisins.
2. Frozen Grapes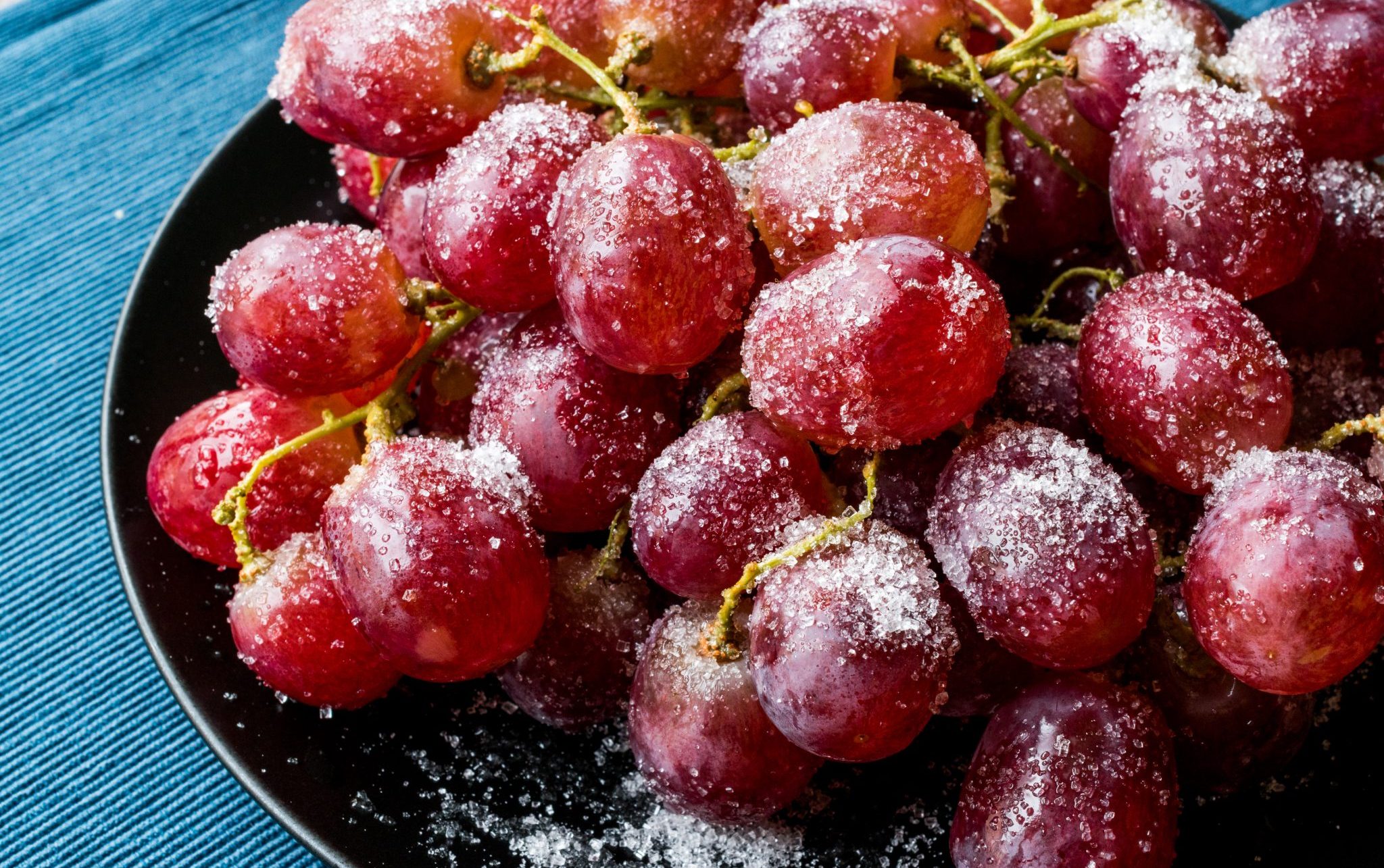 Out of all the cold snacks for hot days, frozen grapes are one of the best! Not only are grapes easy to eat, but they're also rich in energizing carbohydrates, fiber, and vitamin C.
To make frozen grapes, put red or green grapes in a plastic bag and pop in the freezer for a few hours. If your freezer is big enough, you can also freeze the grapes on a baking sheet instead.
3. Tomato and Black Bean Salsa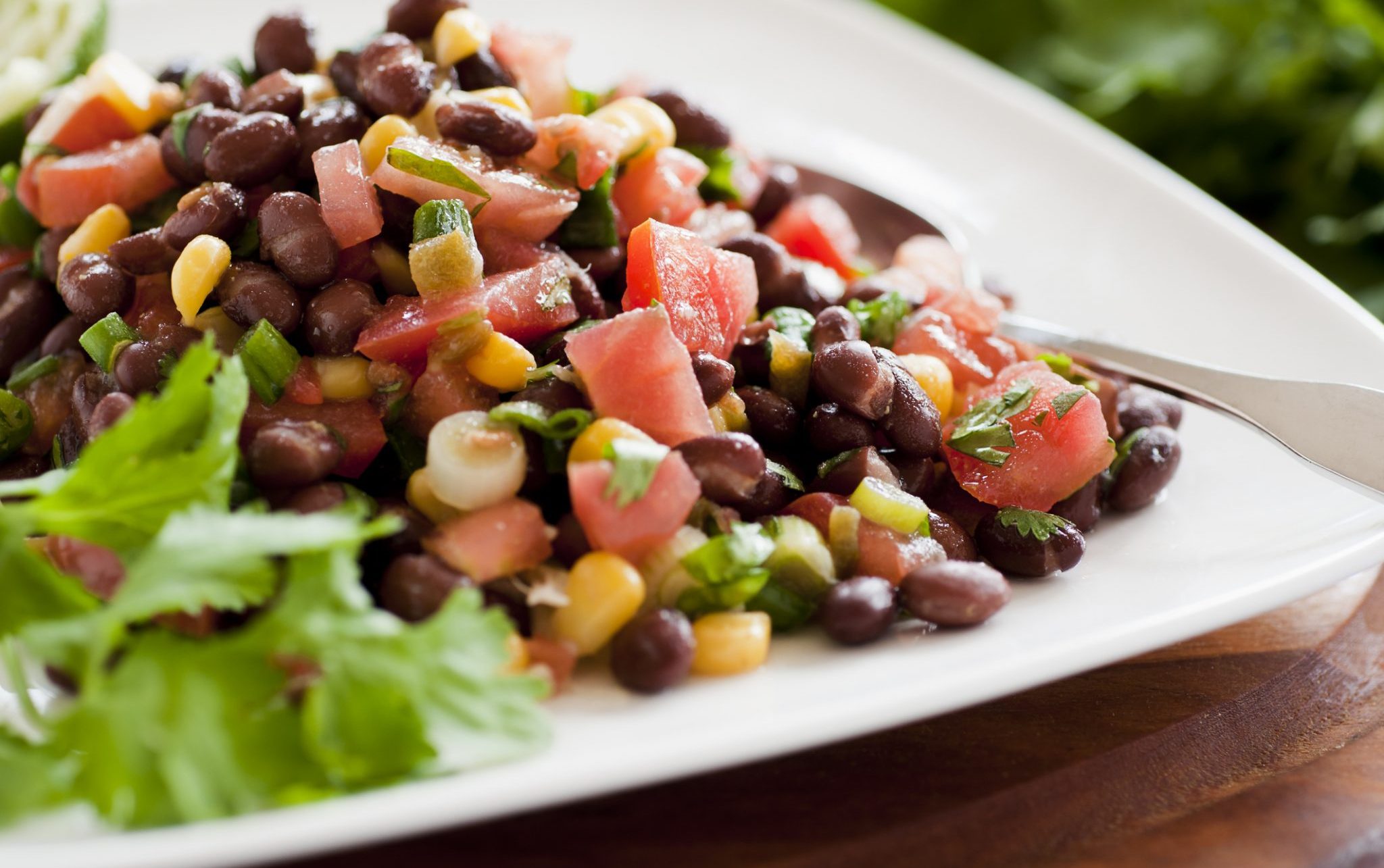 Nothing beats a juicy tomato in the middle of summer. Tomatoes are refreshing, delicious, and a rich source of lycopene, an antioxidant that may boost heart health.
For a tasty way to enjoy this popular summer fruit, dice a fresh tomato into small pieces, add a can of drained and rinsed black beans, ½ cup of red onion, and 1 clove of minced garlic. Enjoy with corn tortilla chips.
4. Frozen Greek Yogurt and Blueberry Bark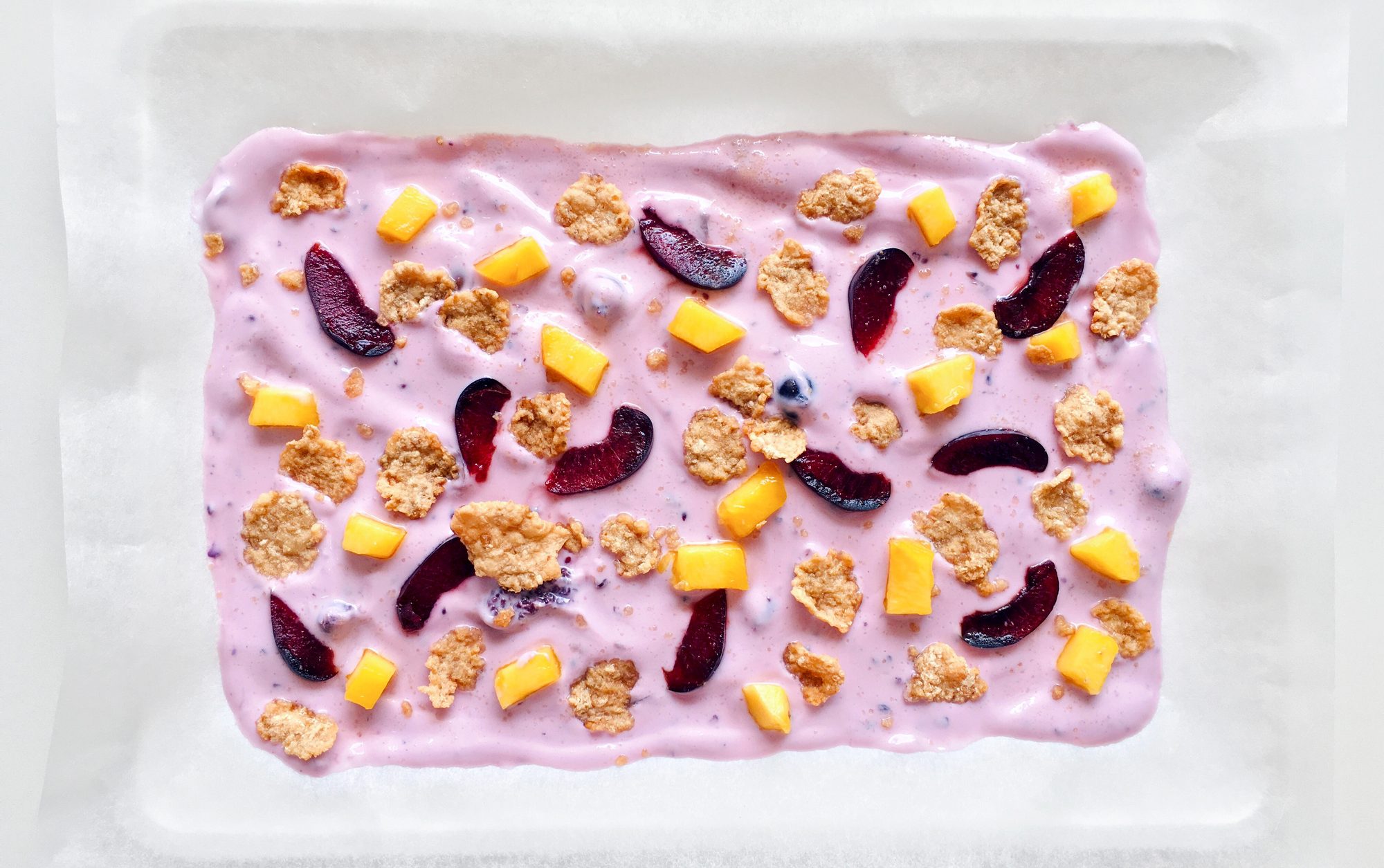 Greek yogurt with fruit is a healthy, balanced snack that provides both protein and carbohydrates. But have you ever tried freezing this winning combo?
To make frozen Greek yogurt bark, line a baking sheet with parchment paper and use a rubber spatula to spread plain Greek yogurt on top. Sprinkle blueberries, or another fresh fruit, into the yogurt. Freeze for at least an hour before breaking the bark into bite-size pieces.
5. Fresh Guacamole with Corn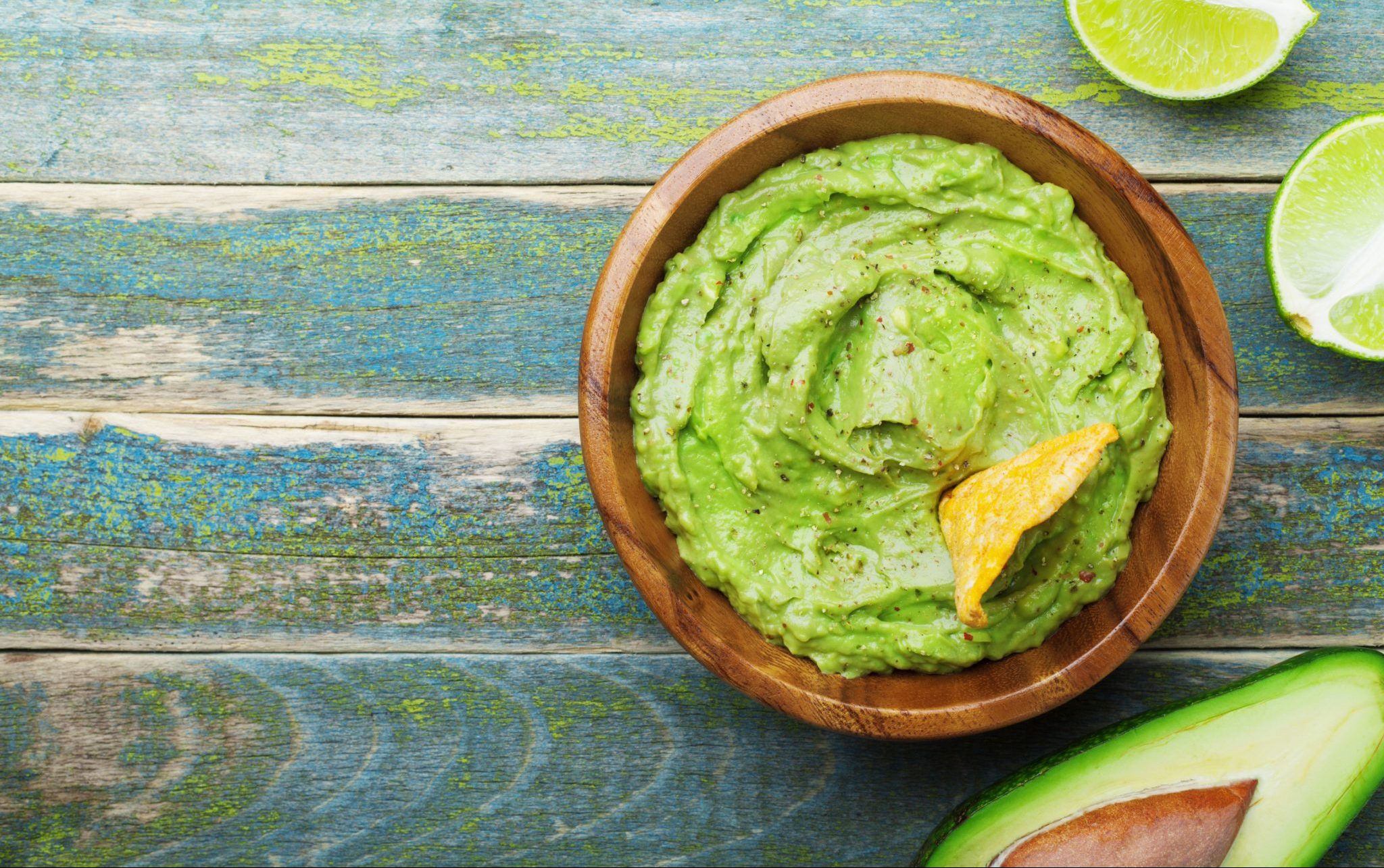 Who doesn't love guacamole in the summertime? It's simple to make, filling, and highly nutritious. Plus, you can serve it with fresh carrots, cucumbers, or radishes to up your veggie intake!
This rendition of guacamole includes corn – a staple summer food. Mix 1 mashed avocado, ½ cup of red onion, 1 clove of minced garlic, 1 cup of canned or fresh corn, and 1 tbsp of lime juice. Serve with veggies or tortilla chips.
6. Berry Chocolate Smoothie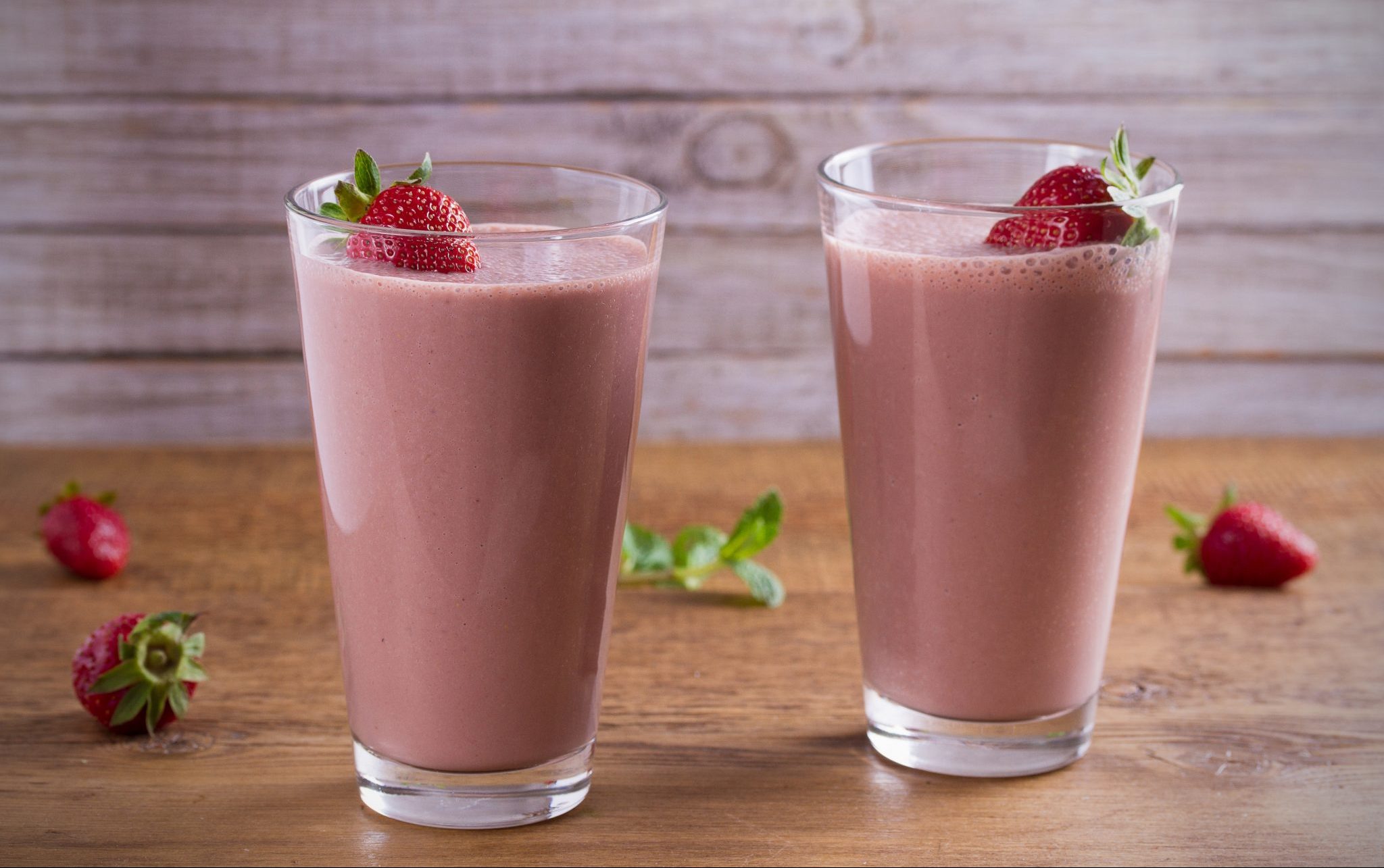 When you really want to keep your food prep to a minimum, smoothies are the way to go! There are countless combinations of ingredients you can use to make a refreshing smoothie, and frozen berries and chocolate are at the top of the list.
Combine 1 cup of frozen strawberries, blueberries, and/or blackberries with 1 cup of milk of choice, 1 tbsp of unsweetened cocoa powder, and 1 tbsp of peanut or almond butter (optional). Blend until smooth, and enjoy!
7. Homemade Brown Bag Microwave Popcorn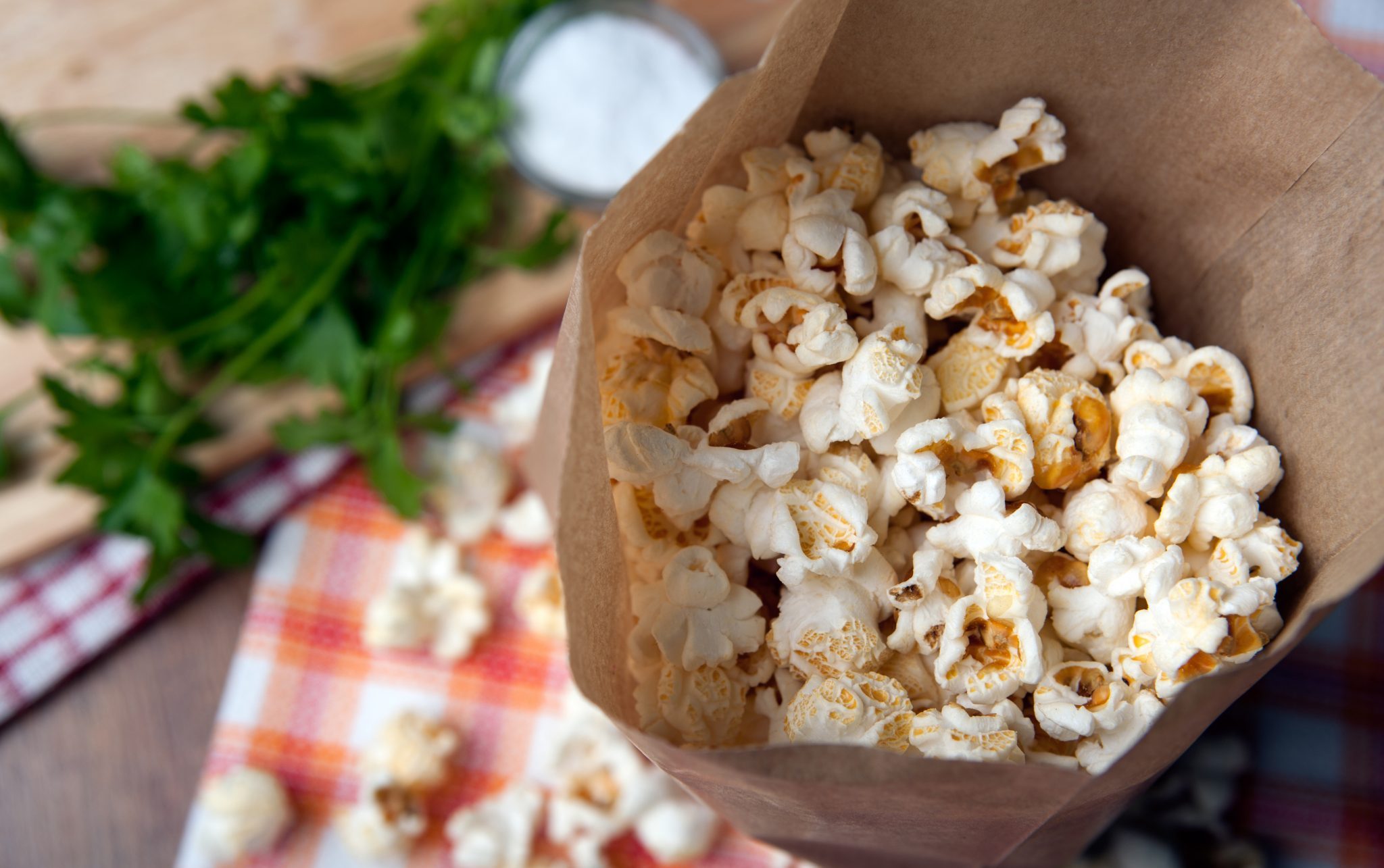 Popcorn is a great choice when you're craving something salty after a sweaty day outside in the heat. But instead of opting for microwave popcorn that has too much sodium or unnecessary preservatives and chemicals, you can make homemade popcorn instead.
Add ¼ cup of popcorn kernels to a medium-sized brown paper lunch bag and fold the top over loosely. Microwave on high for 90 to 180 seconds, or until there are 1-2 seconds between pops. Season with a little bit of salt and butter or olive oil.
8. Watermelon and Yogurt Fruit "Pizza"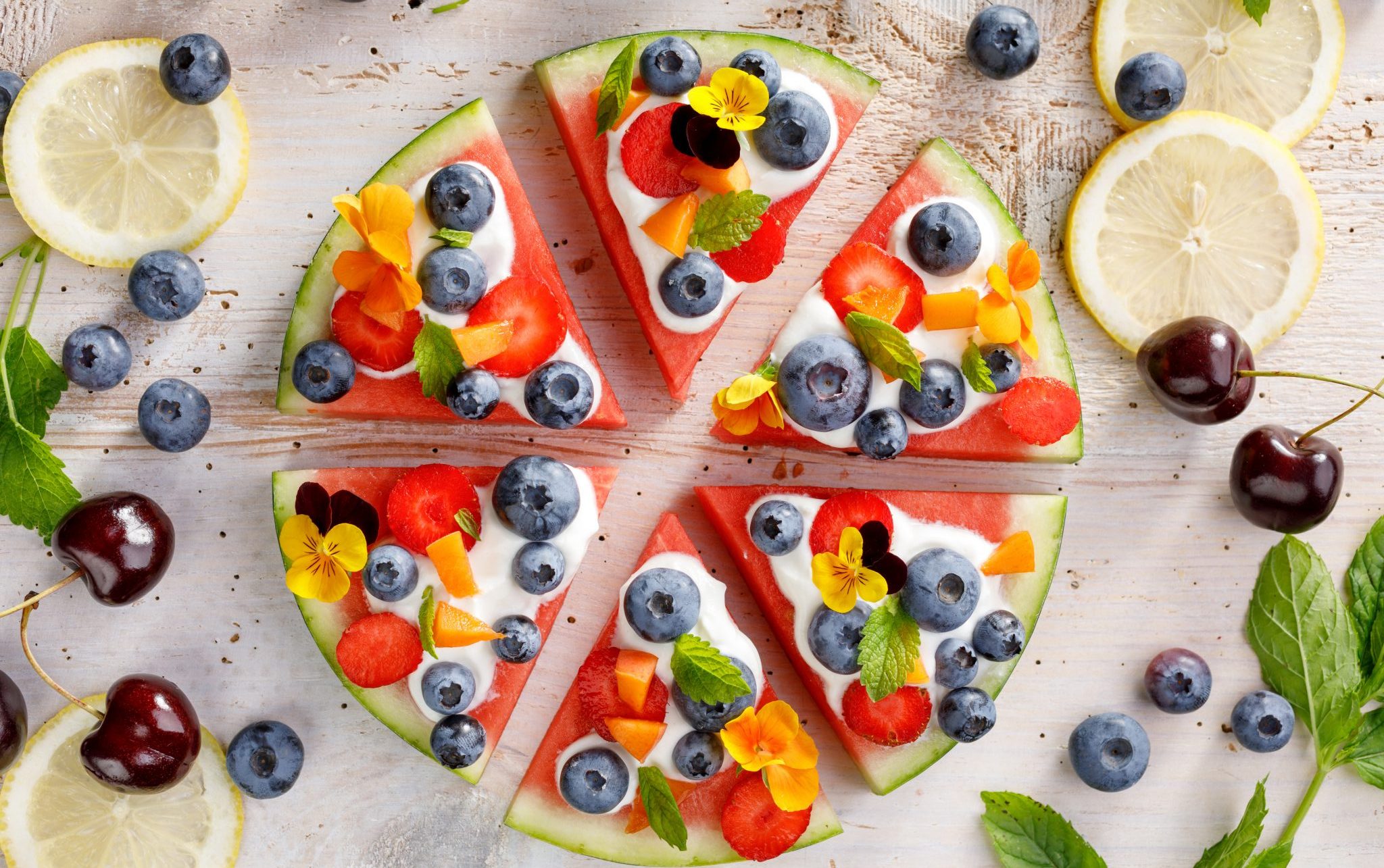 Nothing screams summertime like fresh watermelon. Not only is this fruit incredibly refreshing, but it's also a rich source of lycopene, the same antioxidant that's found in tomatoes, and may help protect against heart disease, diabetes, and some cancers.
Watermelon is most commonly eaten sliced by itself or in a fruit salad, but can be used as the base for a fruit "pizza."
For this easy summer snack recipe, you'll need a watermelon, plain Greek yogurt, and fruit of your choice. Slice the watermelon into large circles, spread a layer of Greek yogurt on top, and top with fruit. Then, cut the "pizza" into slices.
9. Fresh Cherries and String Cheese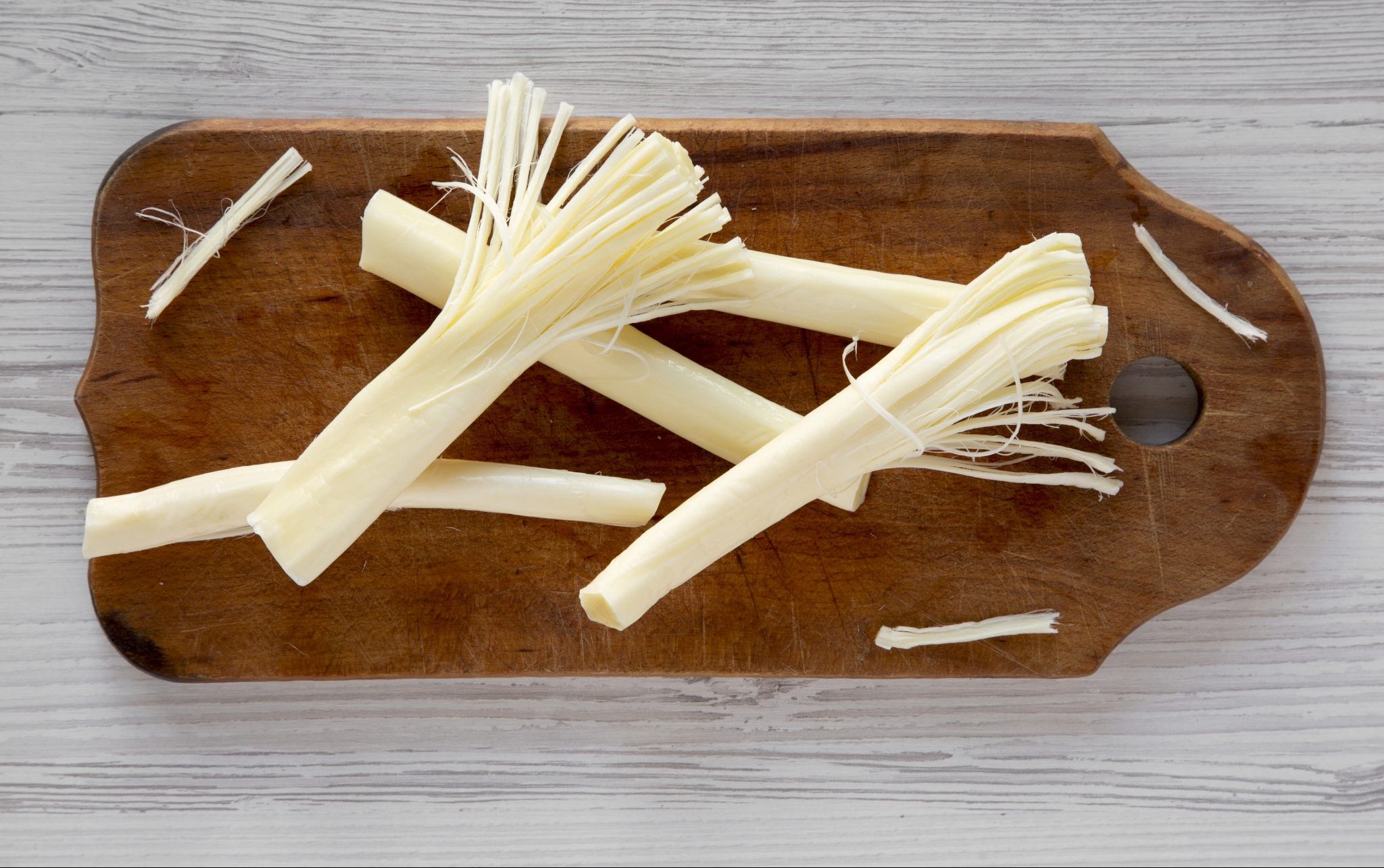 Fresh cherries with string cheese is a simple, no cook recipe that's great for the summer.
Cherries are rich in fiber, vitamin C, and a variety of beneficial compounds. They may help improve sleep, decrease blood pressure, ease muscle soreness, and fight oxidative stress in the body that can lead to disease.
Plus, string cheese provides protein to help you stay more full. It's a winning snack combo!
10. Avocado and Radish Bites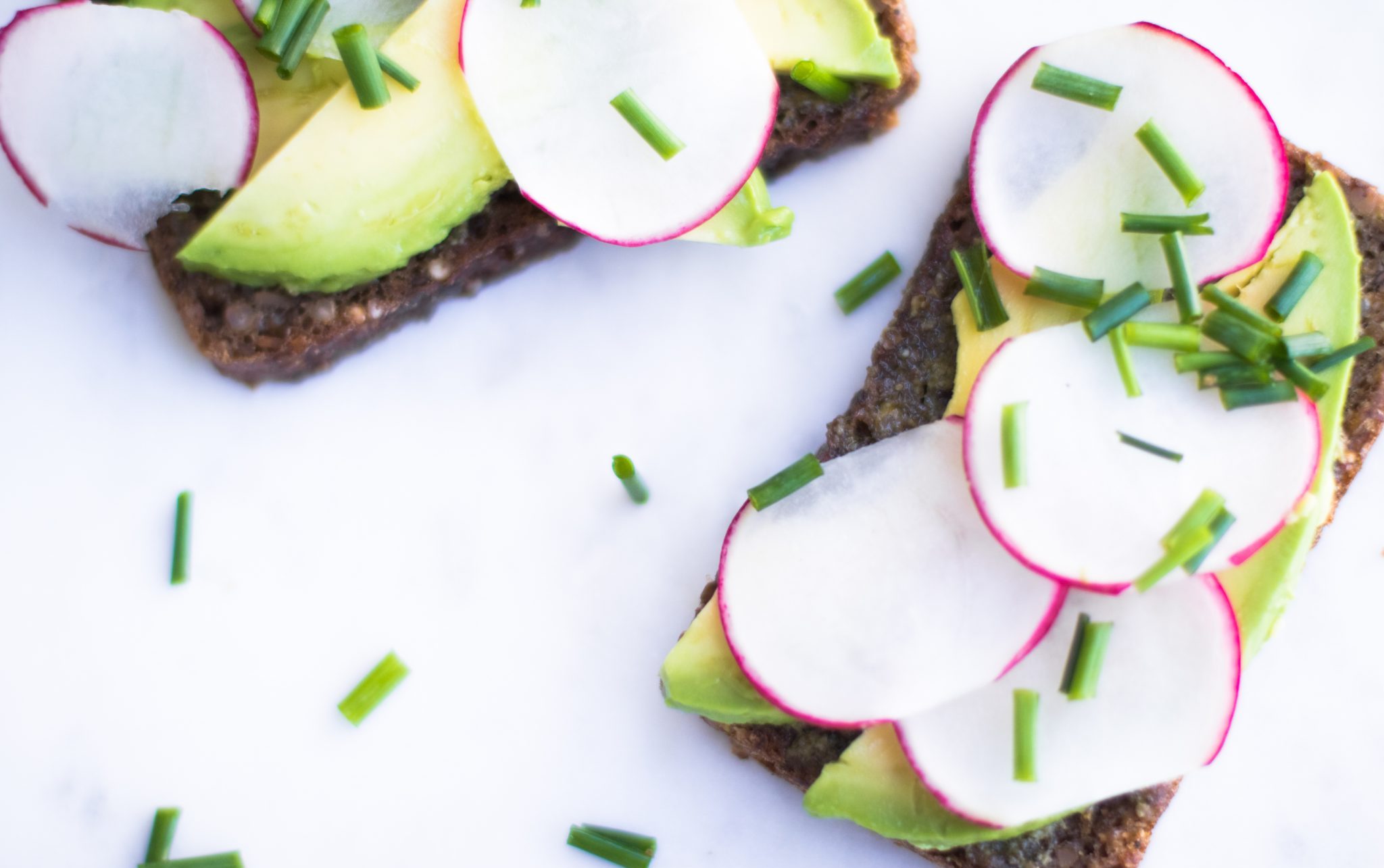 Creamy avocado is a great match for spicy radishes. And this power duo tastes extra refreshing on a hot summer day.
To make this low-maintenance snack, slice a few radishes into thick circles. In a small bowl, mash together 1 avocado and 1 tbsp of lemon juice. Put a spoonful on top of each radish circle, and enjoy!
11. Raspberry Lemonade Smoothie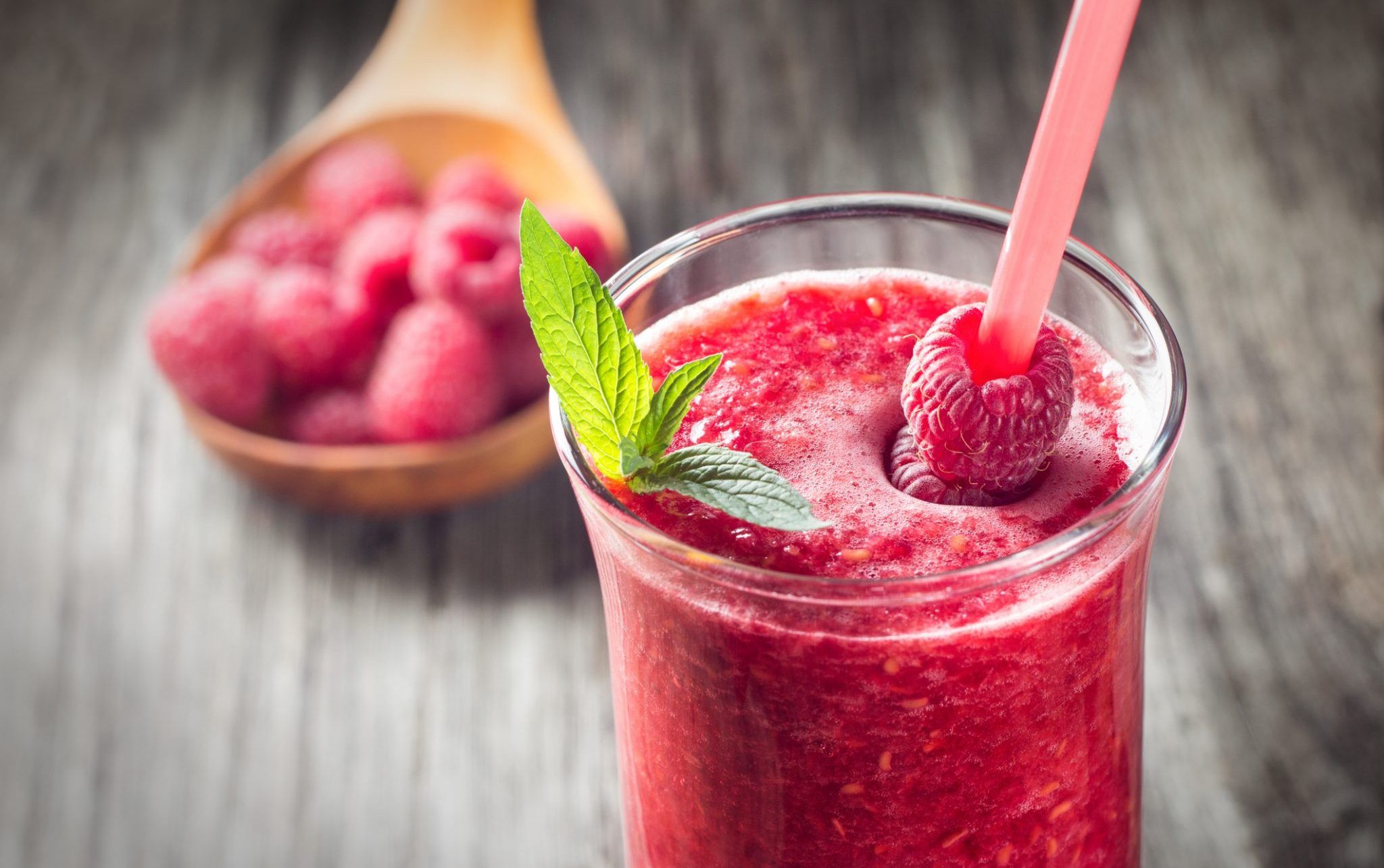 Savoring a glass of lemonade is one of the best ways to cool off in the hot weather. A lemonade smoothie is just as refreshing, while providing satiating fiber and other nutrients.
Combine 1 cup of frozen raspberries, 1 tbsp of lemon juice, 1 tbsp of honey or maple syrup, 1 cup of water, and ½ cup of plain Greek yogurt in a blender and mix until smooth.
12. Cantaloupe, Basil, and Mozzarella Skewers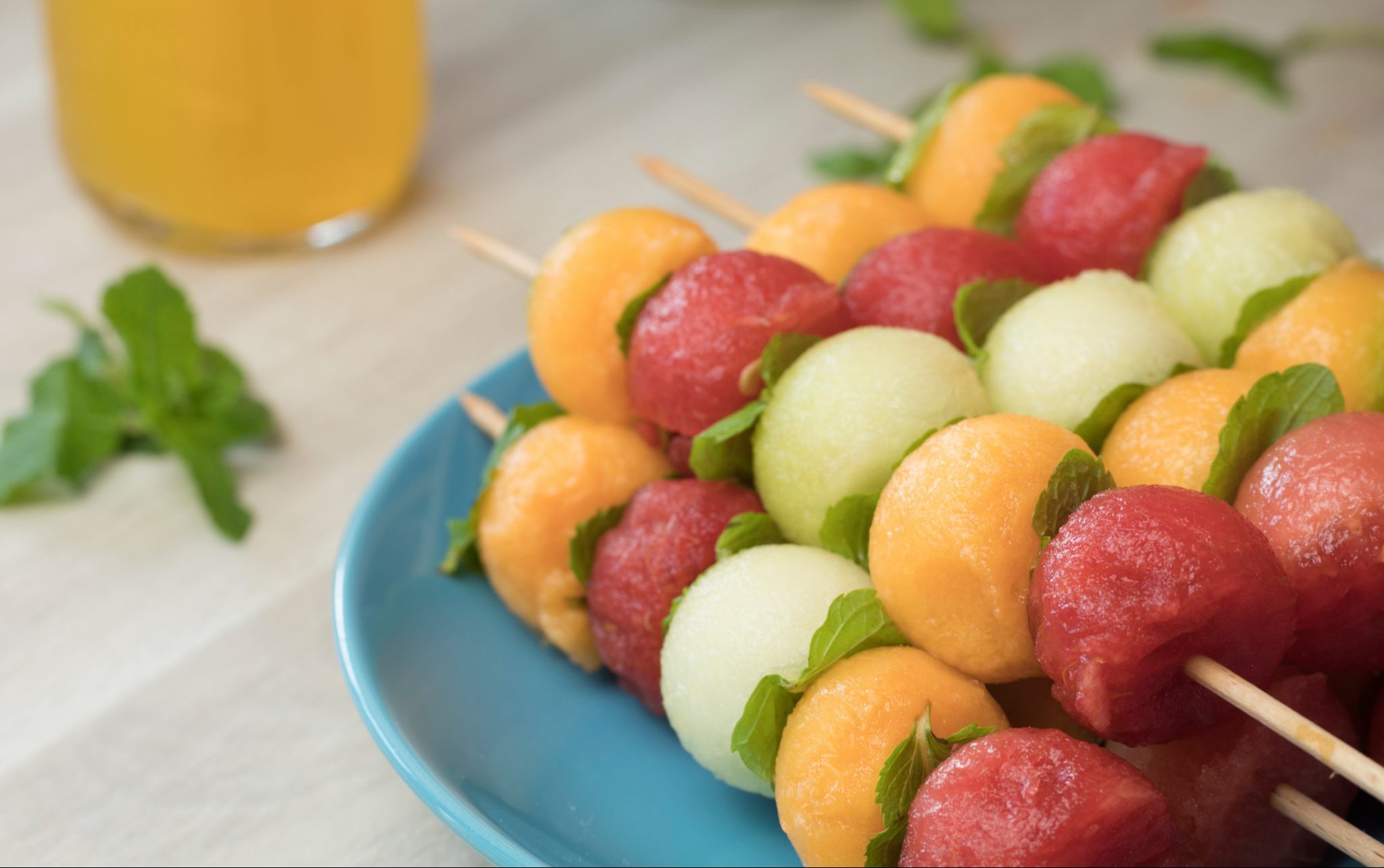 Skewers with fresh fruit or veggies are another easy summer snack. 
For a fun and unique flavor combo, combine a cube of cantaloupe, 1 basil leaf, and 1 ball of mozzarella on a toothpick. You can even prep these skewers in advance, and store them in the fridge for quick, grab-n-go snacks throughout the day.
13. Tomato and Eggplant Bruschetta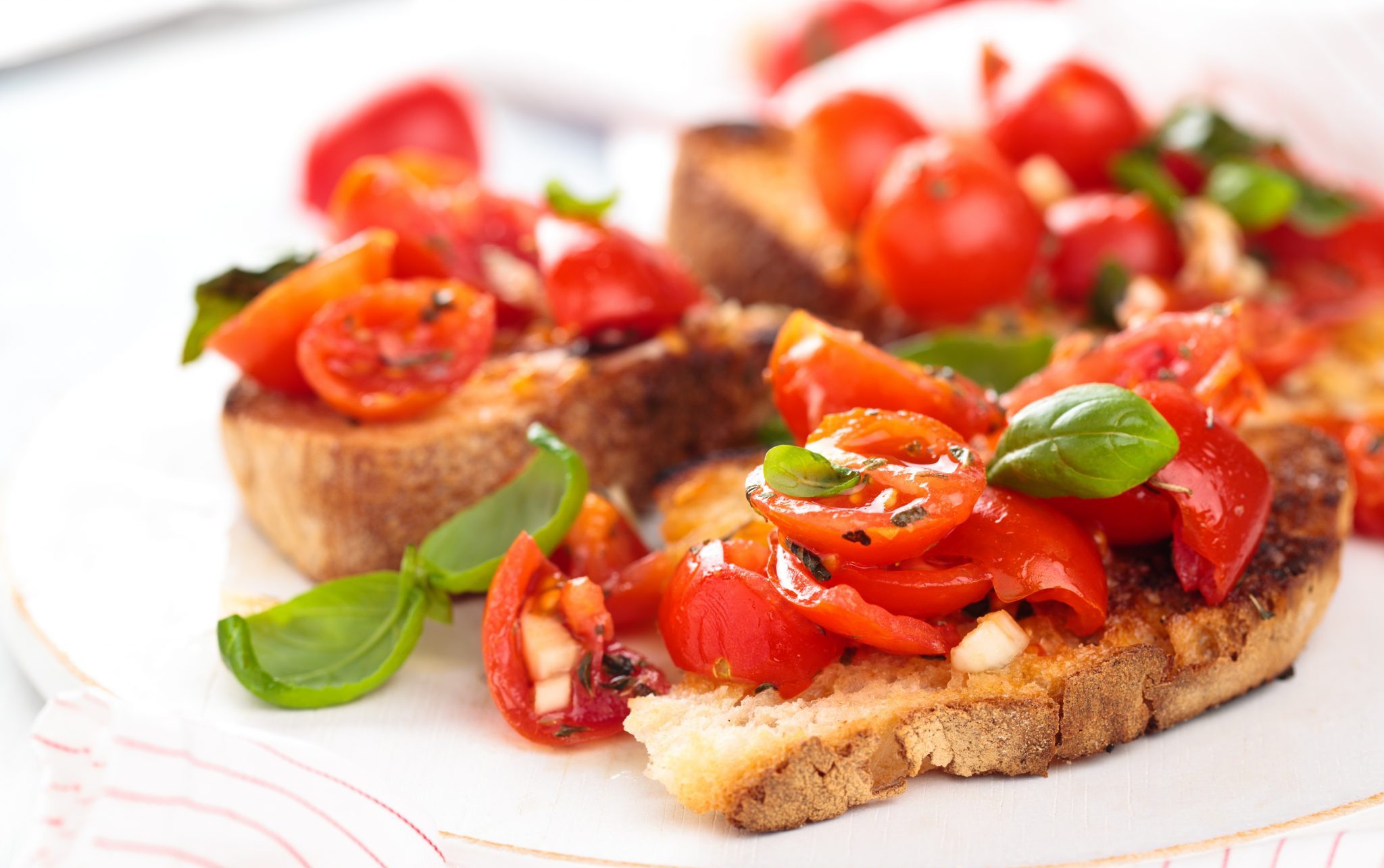 Bruschetta is a tasty, no-cook snack made with freshly chopped vegetables on toasted bread. It's the perfect afternoon snack in the summertime.
To make bruschetta at home, finely chop 1 tomato and 1 eggplant, and combine with 2 cloves of minced garlic, ½ chopped yellow onion, 2 tbsp of olive oil, and 2 tbsp of chopped fresh basil. Serve on toasted baguette slices.
14. No-Bake Peanut Butter Bites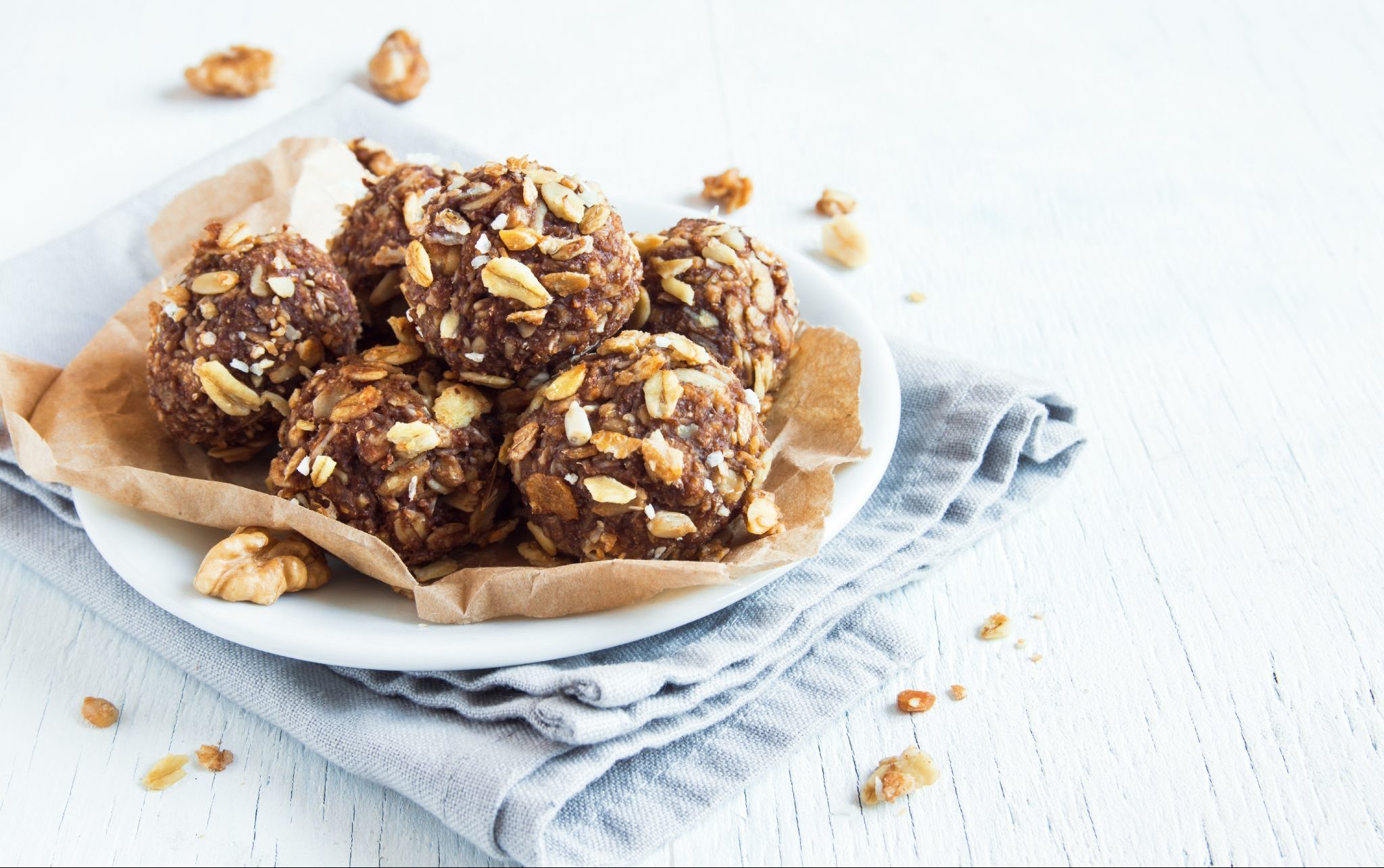 No-bake bites are some of the easiest DIY snacks for summer. They are typically made with some type of nut butter, which provides protein and healthy fat, and fiber-rich oats.
Mix 1 cup of old fashioned oats with ½ cup of creamy peanut butter, 2 tbsp of honey or maple syrup, 2 tbsp of chia seeds, 1 tbsp of vanilla, and ¼ cup of mini chocolate chips. Roll the mixture into 10-12 balls and store in an airtight container in the fridge.
15. Hummus Cucumber Boats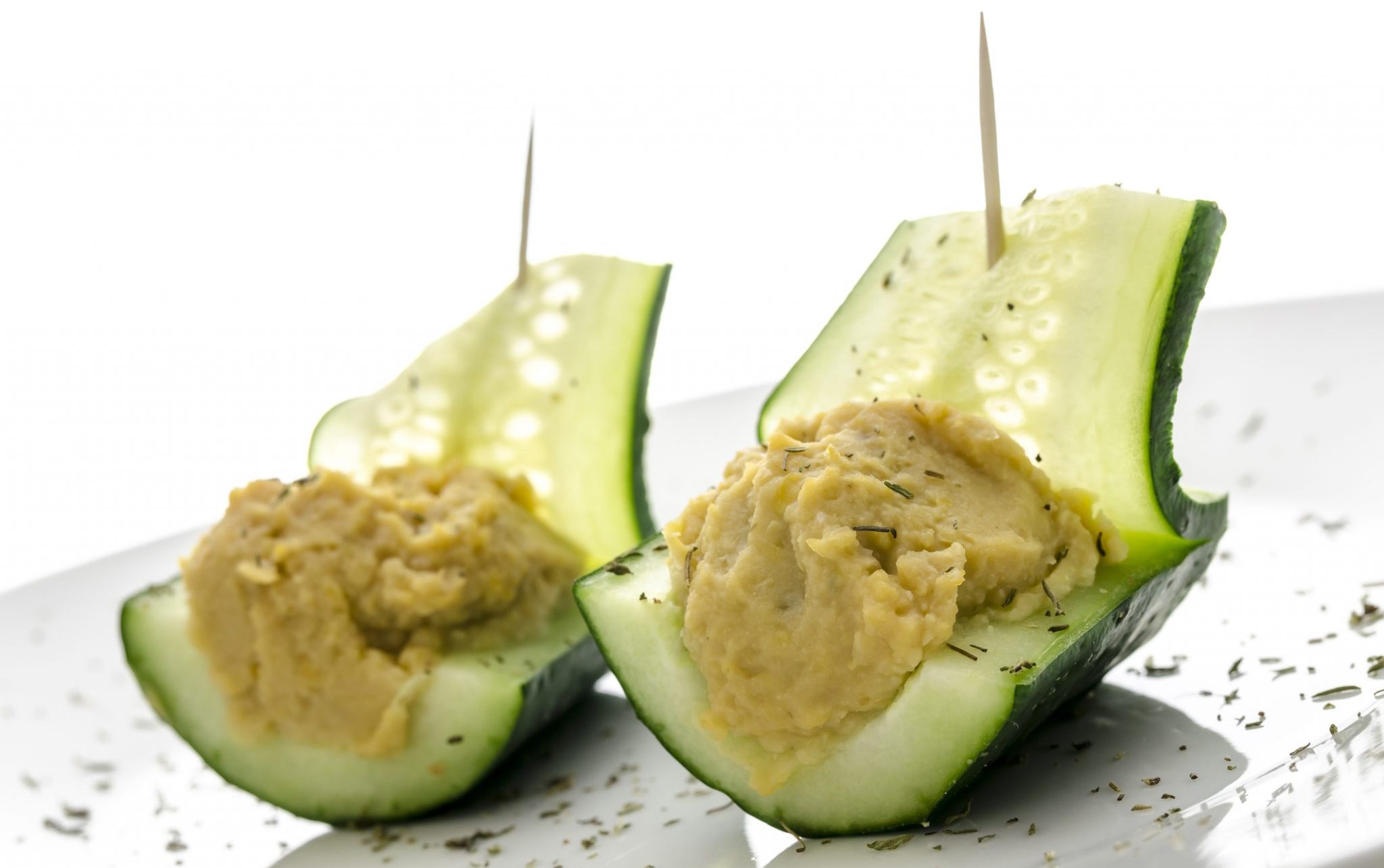 Cucumbers are incredibly refreshing and contain a variety of beneficial nutrients, including potassium, magnesium, and vitamins C and K.
To make cucumber boats, slice cucumbers in half lengthwise and use a spoon to carve out the seeds and some of the flesh in the middle. Fill each half with 2 tbsp of hummus.
16. Mint Peach Popsicles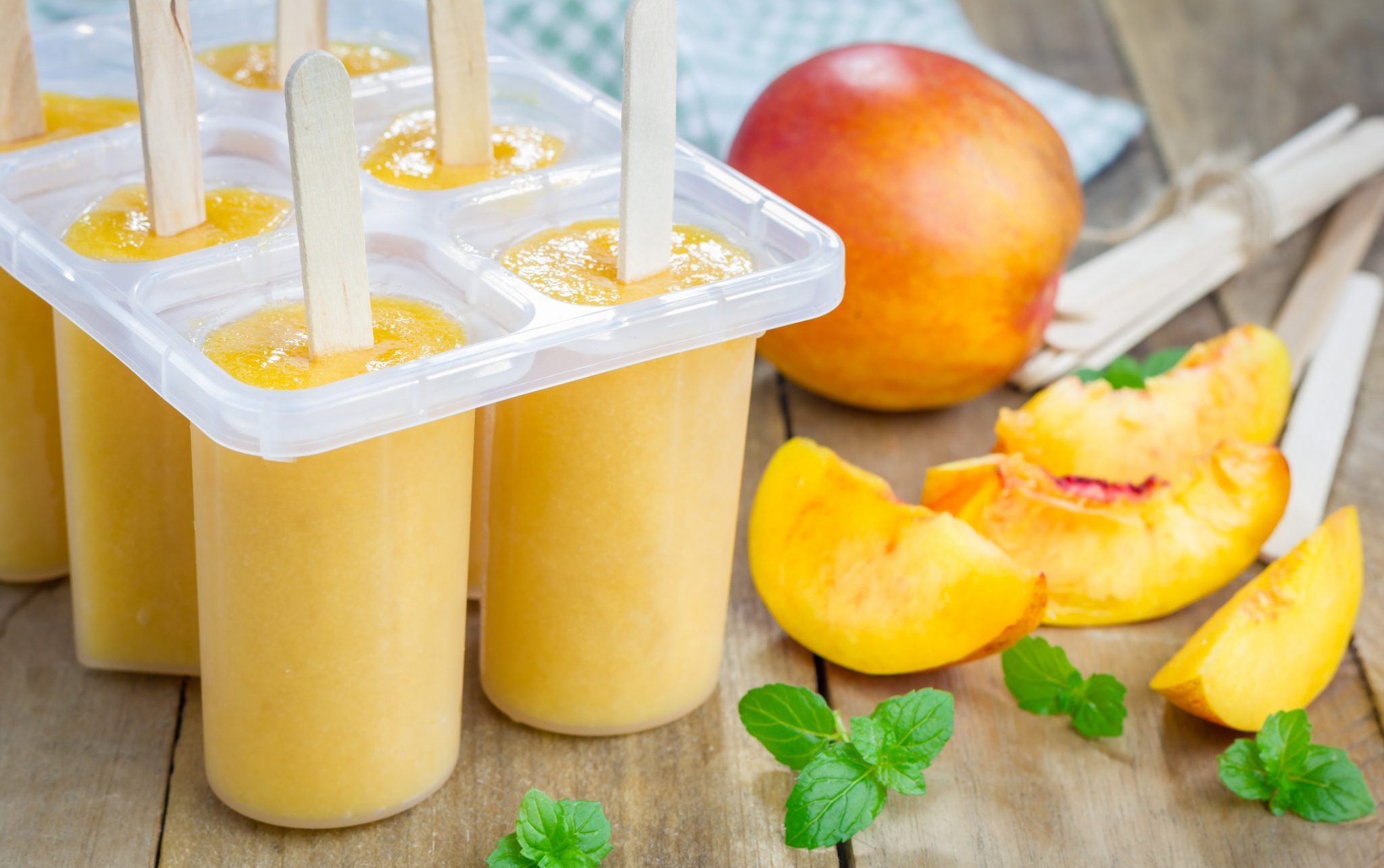 Is there anything better than a sweet popsicle on a hot summer day? We don't think so!
Peach popsicles are especially refreshing, and easy to prepare, too. To make them, blend 3 diced peaches (you can leave the skin on, but take the pits out!) with 1/2 cup of water, 1 tbsp of lemon juice, 1 tbsp of honey, and 5-10 fresh mint leaves.
Pour the mixture into 12-16 small paper cups until they are ¾ of the way full, and then place a popsicle stick in each one. Transfer to the freezer and freeze for at least an hour.
17. Tuna Salad Bell Peppers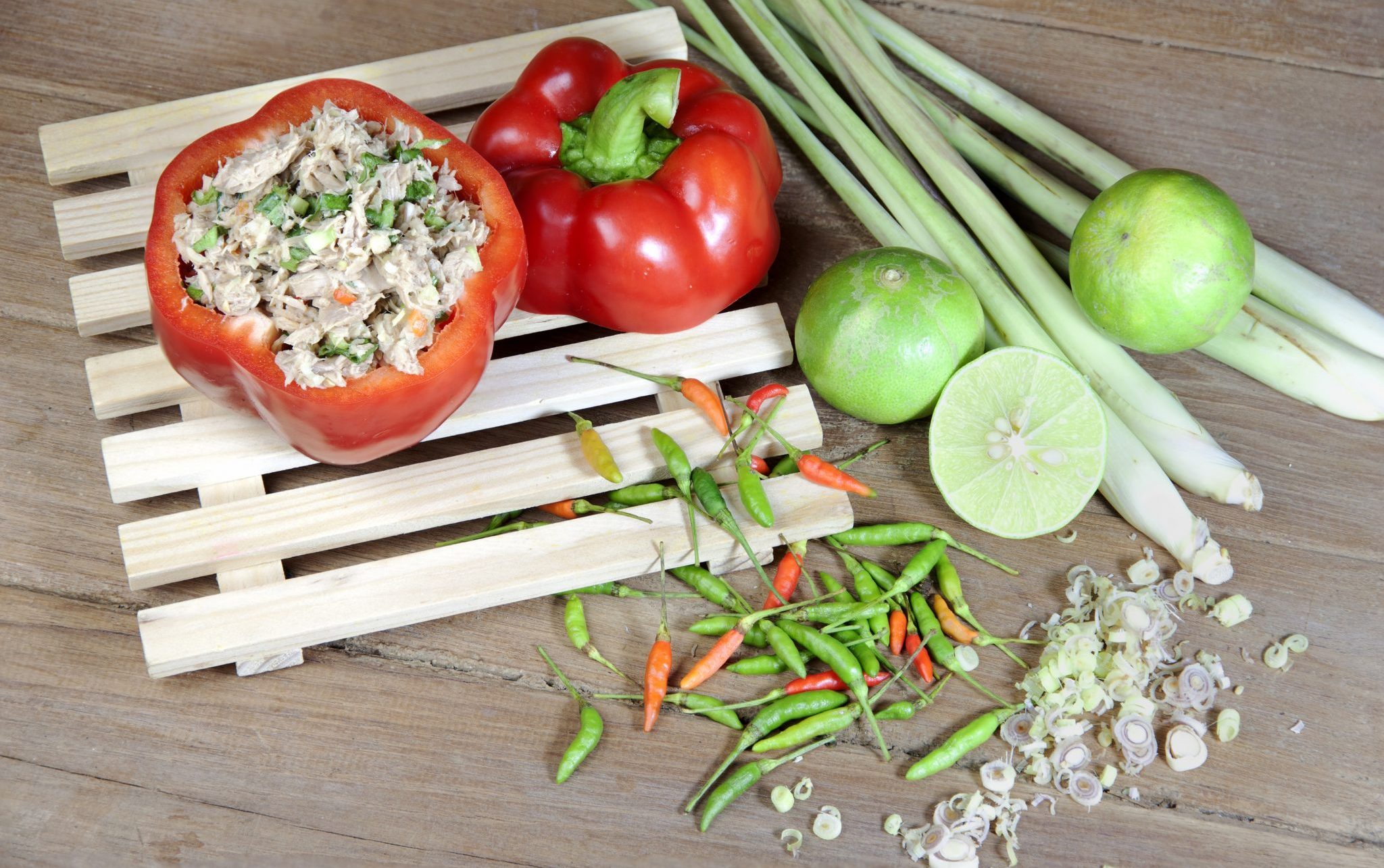 Did you know that bell peppers are totally stuff-able? In fact, stuffed bell peppers make a delicious and incredibly filling snack!
To make bell peppers with tuna salad, slice a pepper in half and remove the seeds and top. In a small bowl, combine 1 can of tuna fish (drained) with 2 tbsp of plain Greek yogurt, 1 tbsp of lemon juice, 1 stalk diced celery, salt, and pepper.
Scoop the filling into each half of the pepper, and enjoy!
18. Fruit Salsa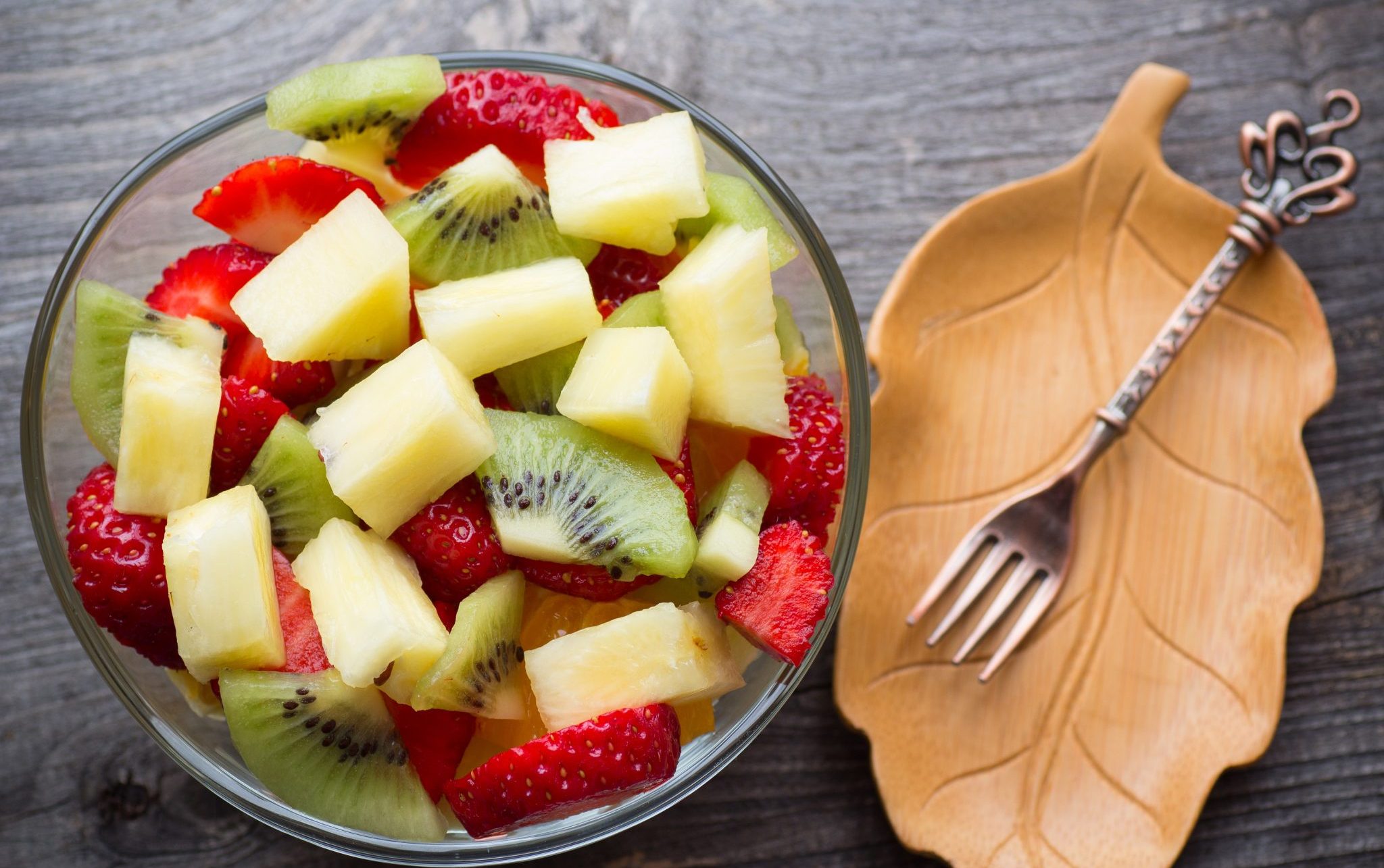 Tomatoes aren't the only summer fruit that you can make into salsa! 
For a fun and unique snack, try combining some of the fruits that are in season during the summer into a fiber-rich and nutrient-dense salsa.
For example, you can chop up strawberries, kiwis, pineapple, and peaches. Mix them together with 1 tbsp of maple syrup and add some fresh mint or basil if desired. Serve with pita chips.
19. Chickpea and Feta Lettuce Wraps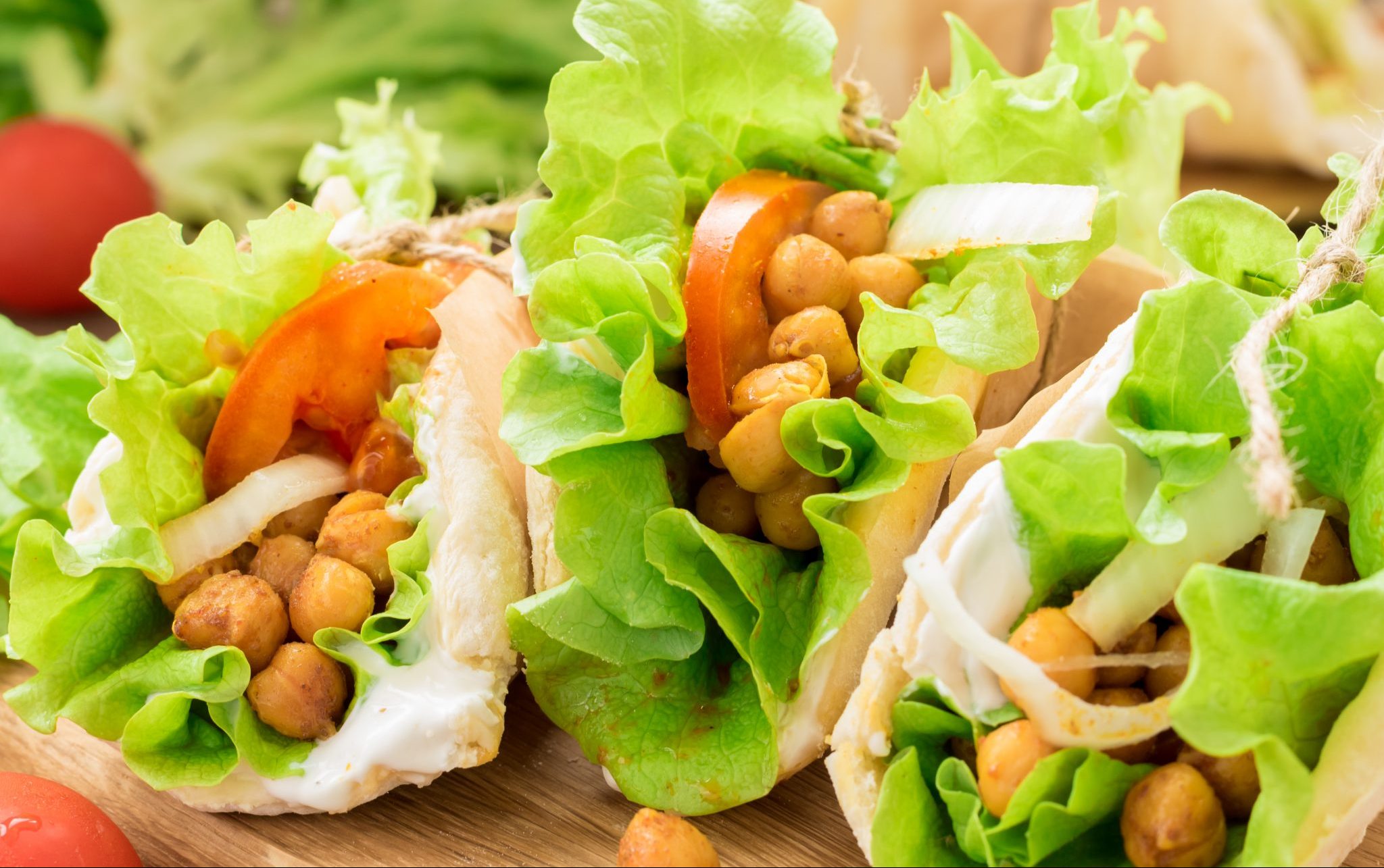 Crisp, refreshing lettuce is an excellent food to eat on a hot day.
To make lettuce wraps, grab a head of romaine, iceberg, or butter lettuce and wash a few leaves. In a small bowl, combine a can of chickpeas (drained and rinsed), ¼ cup of crumbled feta cheese, 1 tbsp of lemon juice, salt, and pepper.
Store the filling and washed lettuce leaves in separate airtight containers in the fridge. When you're hungry, scoop some of the filling into a few leaves for a quick snack.
20. Pineapple Coconut Bites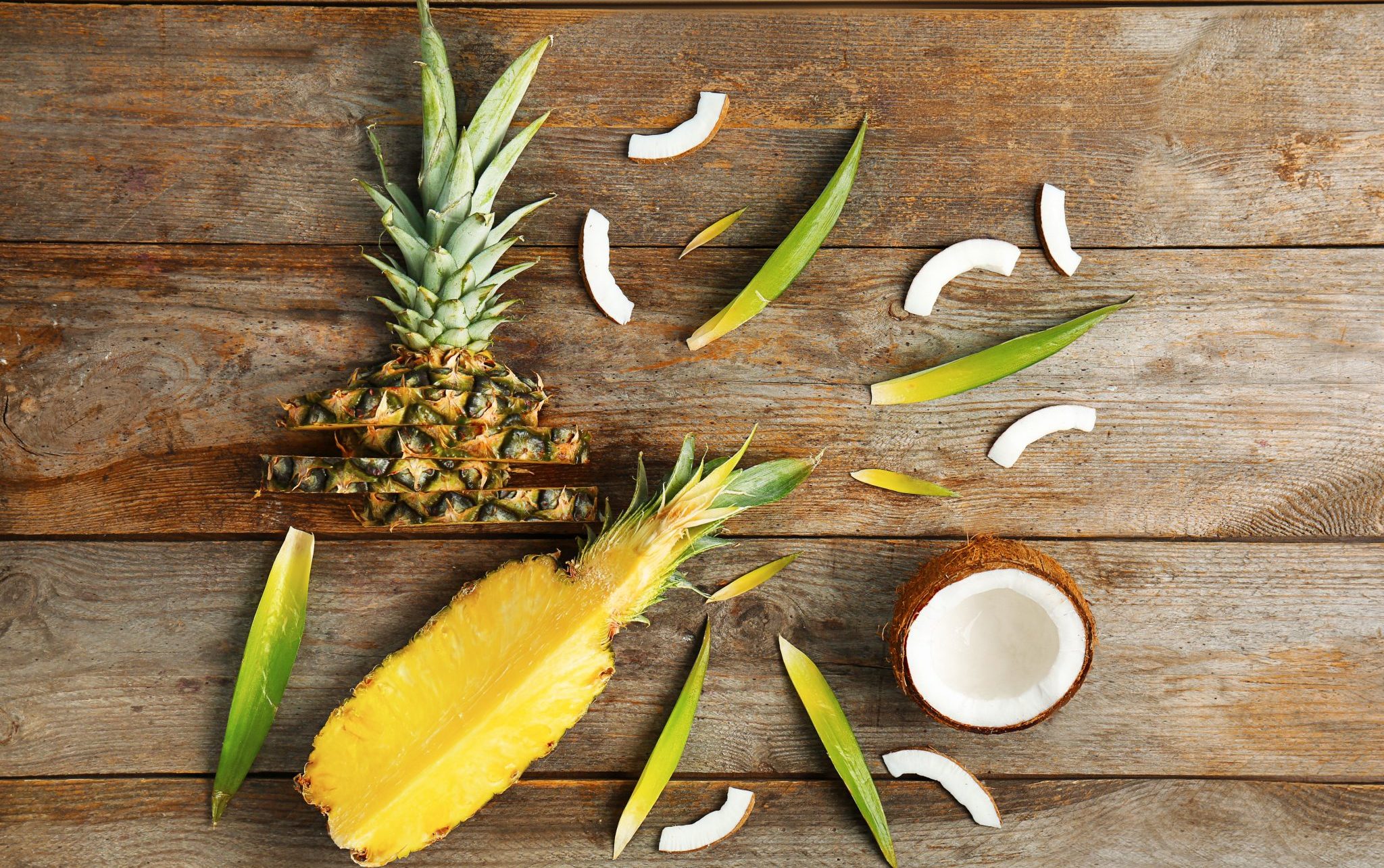 For a quick and easy summer snack recipe, try homemade pineapple coconut bites. Pineapple contains natural enzymes that may aid in digestion, while coconut is rich in fiber and satiating fat.
To make these bites, spread 1 cup sliced pineapple on a plate and sprinkle ¼ cup finely shredded coconut on top.