Ever had that after-dinner sweet craving? A mid-afternoon desire for something sweet? We've all been there. But before you go and throw your healthy lifestyle down the drain with all the junk food you can find, why not try one of these guilt-free healthy desserts?
5 healthy desserts to try
1. Greek yoghurt, dark chocolate, and nut cups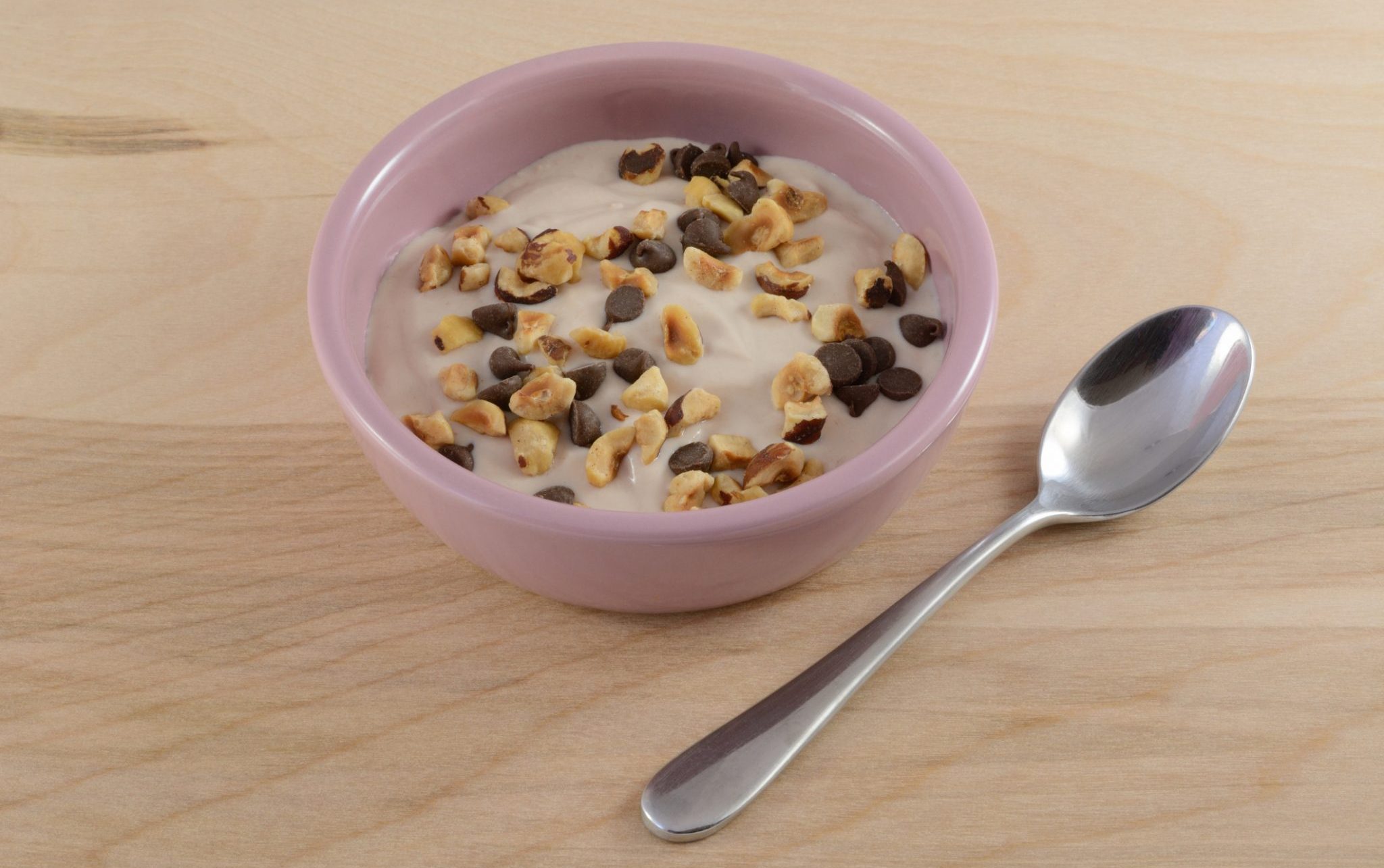 Satisfy your cravings for something creamy, crunchy, and chocolatey with this delicious mix. It's so simple to make and is perfect for a quick mid-afternoon snack.
The nuts in this snack provide healthy dietary fiber, leaving you fuller for longer, and are packed with omega 3 fatty acids. The yogurt delivers a rich, creamy texture while being high in protein and good for your calcium levels. While the star of this piece – dark chocolate – helps reduce the risk of stroke, lowers the risk of diabetes, promotes heart health, and boosts your mood too.
Ingredients
Greek yogurt. You can also use homemade if you prefer.
Grated dark chocolate.
Chopped nuts. We like walnuts, hazelnuts, and cashews.
Instructions
Grab a cup or small bowl and heap in the Greek yogurt.
Grate some dark chocolate and sprinkle it on top.
Now, add in the nuts for that extra crunchy. Yum!
2. Banana nice-cream split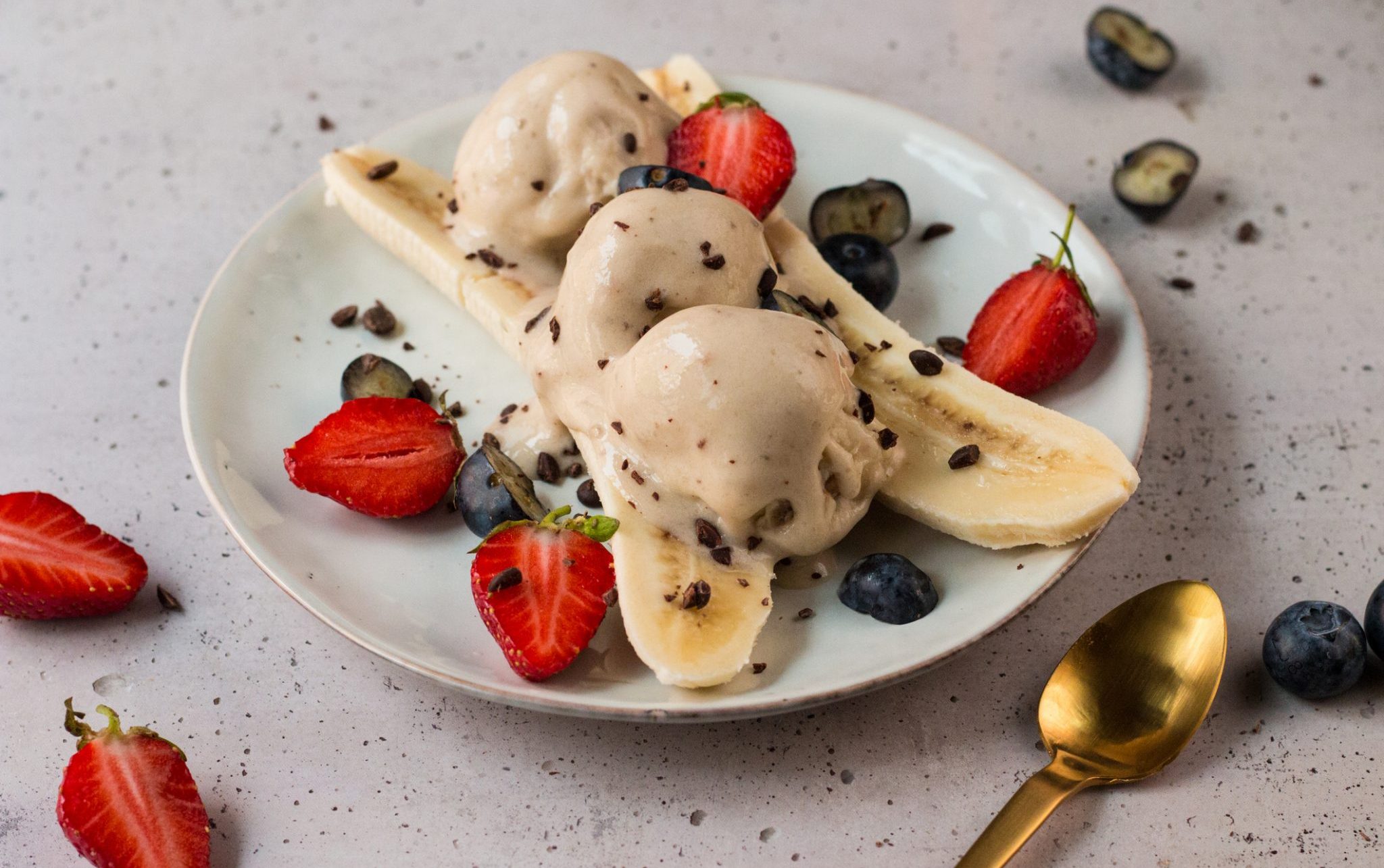 A new twist on a childhood classic, proving you don't have to deny yourself something sweet when you really want it.
The banana in this dessert delivers healthy dietary potassium and helps you stay fuller for longer. The Greek yogurt helps your gut bacteria, while the cherry on top? Well, that's just for fun.
Ingredients
A bunch of bananas
Coconut milk
Cocoa powder
Greek yogurt
Fresh cherries
Honey
Instructions
You have to start early to get this one ready. Blend up 2 bananas with some coconut milk, add in the cocoa powder and stick in the freezer. This is your banana nice-cream.
Once your nice-cream is frozen. It's time to start prep. Grab a whole banana and cut in half. This is your split.
Add on top of the nice-cream and Greek yogurt.
Drizzle on some honey to give that sweet flavor.
Add on those cherries to top it all off.
3. Fruit Crunch and Crumble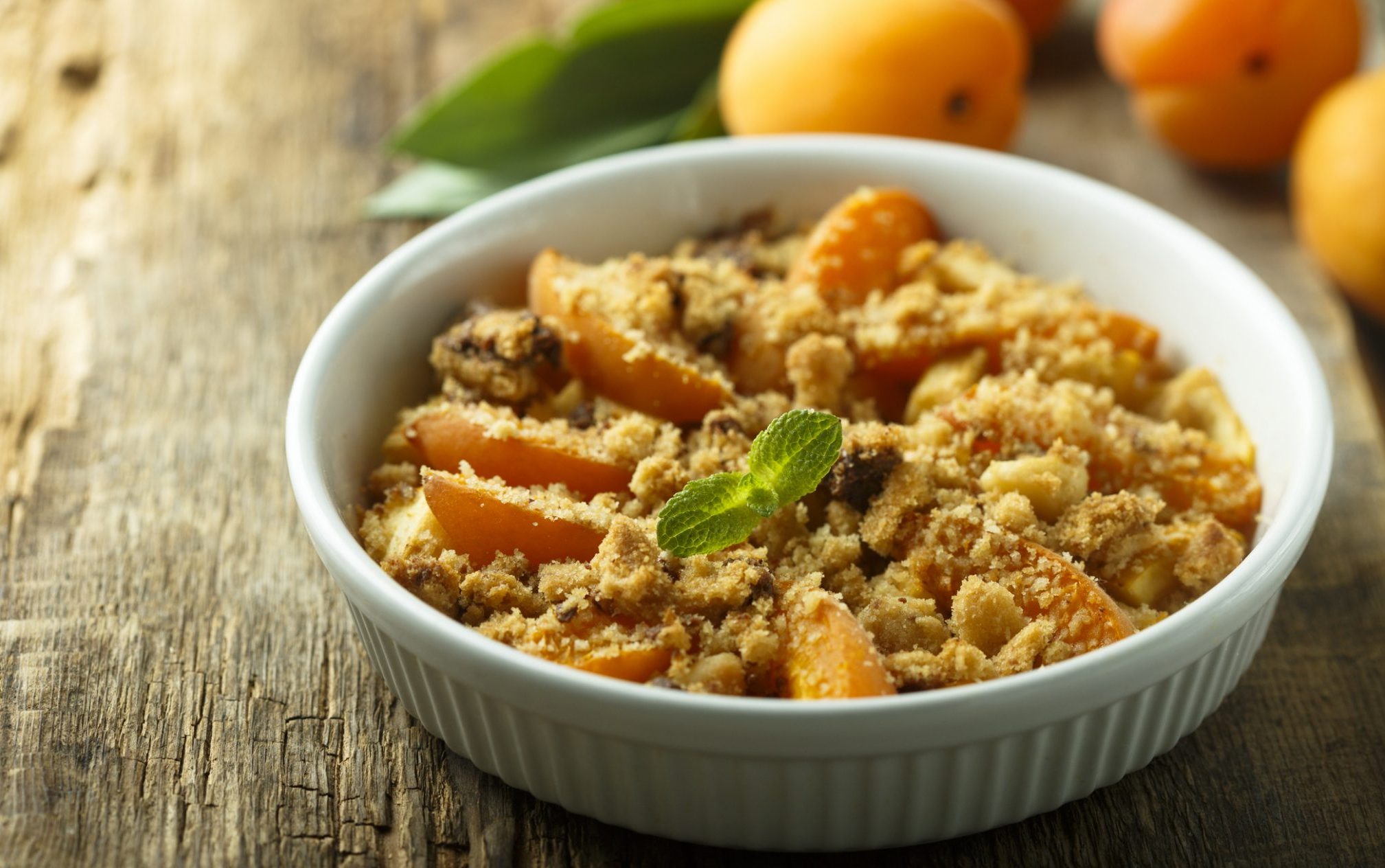 This nice dessert is a perfect treat for a cold Fall or Winter day. This tasty crunch and crumble will leave your cravings satisfied and give you that delicious vitamin boost too.
The crunchy granola and nut topping provide you with omega 3 fatty acids, which helps make for healthy hair and nails. Meanwhile, the delicious fruit layer gives you all the vitamins you need.
Ingredients
Apples
Seasonal fruits (cherries, peaches, rhubarb, and more make excellent additions)
Cinnamon
Chopped nuts. Try walnuts, hazelnuts, and cashews to suit your taste.
Granola, preferably sugar-free
Instructions
Chop up your apples and seasonal fruit. Place them in an oven dish and add in a little bit of water. Sprinkle with cinnamon and mix.
Heat in the oven until the fruit is soft.
Add the chopped nuts and granola on top and continue to heat until crunchy. Enjoy!
4.    FroYo Berry Cups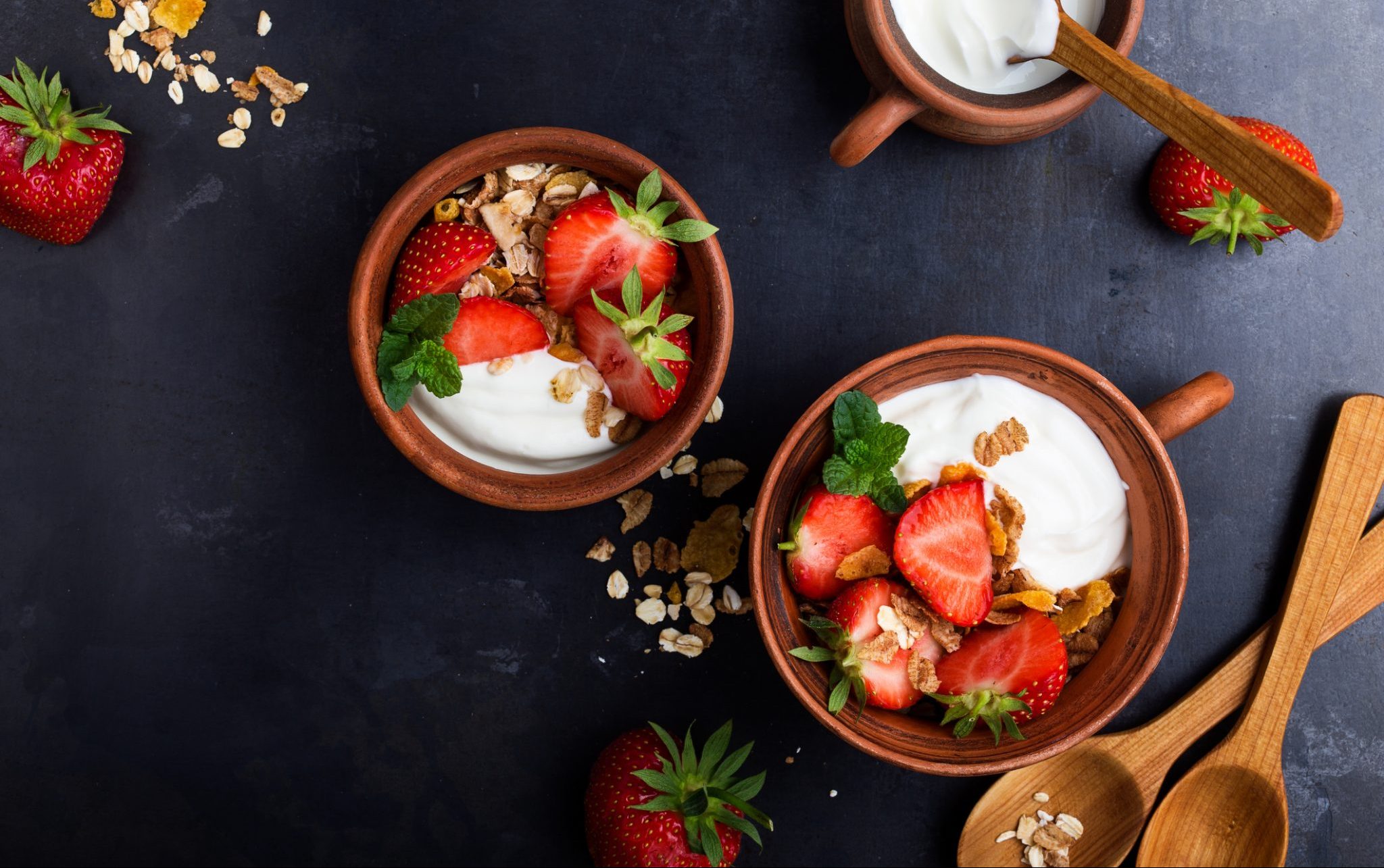 Pre-prepare these tasty 'cups' so that when that sweet craving hits, you are ready to satisfy it and not ruin your diet.
The yogurt is perfect for answering your ice-cream craving while delivering those healthy probiotics, essential for gut health. Seasonal fruit gives you the necessary vitamins and antioxidants. Meanwhile, that granola base not only holds the cup together, it also provides a solution to those crunch cravings.
Ingredients
Granola
Honey
Seasonal fruit. We love blackberries, peaches, blueberries, and raspberries.
Greek yogurt
Instructions
Prep your cups by placing cupcake papers or reusable silicon in your baking tray.
Mix the granola and honey, so it is nice and sticky, then add it into your cups. Put it in the fridge for one hour to cool and set its form.
Add on top the Greek yogurt. Make sure you get a good fluffy layer.
Grab a couple of pieces of fruit and place them into the yogurt.
Put in the freezer and keep until you're ready to eat.
5.     No-Bake Chocolate Energy Balls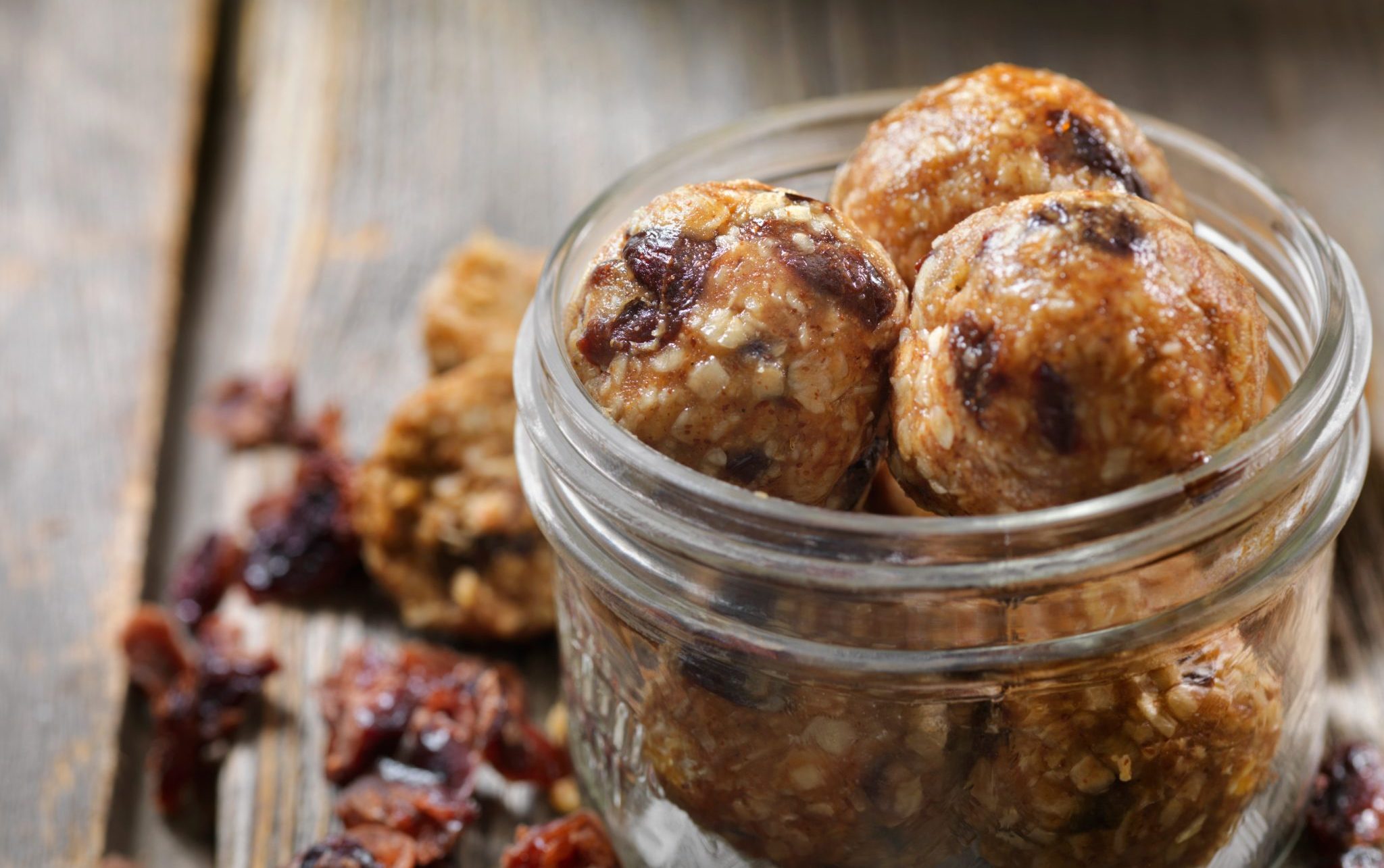 Got that chocolate craving but don't want to break down and binge? These delicious no-bake energy balls satisfy and give you the strength you need to keep going.
The natural sugars of the Medjool dates give you that healthy, sustainable energy boost. Cocoa powder satisfies those chocolate cravings and improves your mood. Meanwhile, coconut is packed with manganese, which is excellent for bone health.
Ingredients
¾ cup almonds
2 cups pitted Medjool dates
1 cup shredded unsweetened coconut
¼ cup unsweetened cocoa powder
1 to 2 tablespoons melted coconut oil, as needed
1 tablespoon of shredded coconut to top, or you can use sesame seeds.
Instructions
Pulse the almonds in a food processor until roughly chopped. Add the dates, coconut, and cocoa powder. Pulse until the ingredients start to combine.
Test the batter by taking some into your hands and molding it into a ball. If it's too dry, add approximately 1 tablespoon of melted coconut oil to help the batter stick together (more if needed). Roll the batter into 18-20 balls and place it on a plate. Decorate with shredded coconut or sesame seeds.
Transfer the plate to the fridge for about 30 minutes to let the balls firm up. Store them in an airtight container in the fridge for 4 to 5 days.