Baby, it's cold outside! And if winter workouts sound less than amazing right now, you're not alone. But before you give up on all that hard work and motivation, just take a moment to think how good it'll feel once you get that workout in. Working out in winter requires a little extra preparation, so before you head outdoors, it's essential you dress right for the weather. Here's our short guide to keeping warm and dressing right for workouts in winter.
Wonders of winter workouts
It's almost always pleasant to spend time outdoors in summer, but when those winter months roll around, it's not so tempting. However, before you snuggle down beneath that blanket and hibernate till spring, remember these benefits of winter workouts:
Improves endurance
In winter, you sweat less and expend less energy. This can make your overall exercise routine more efficient.  (less sweat, exercise more efficiently
Gives you a vitamin D boost
Just because you don't see the sun doesn't mean it's not there. Even spending an hour or two outside will give you the vitamin D boost.
Burns more fat
That cold air is good for something. Exercising outdoors in winter can help burn fat faster, turning white fat into calorie-burning brown fat.
Recharges your mood
You might think only the Christmas spirit can boost your mood in this weather. You'd be wrong. Exercising delivers a healthy amount of feel-good chemicals that can ward off a bad mood or seasonal affective disorder.
3 Golden rules for winter workout clothing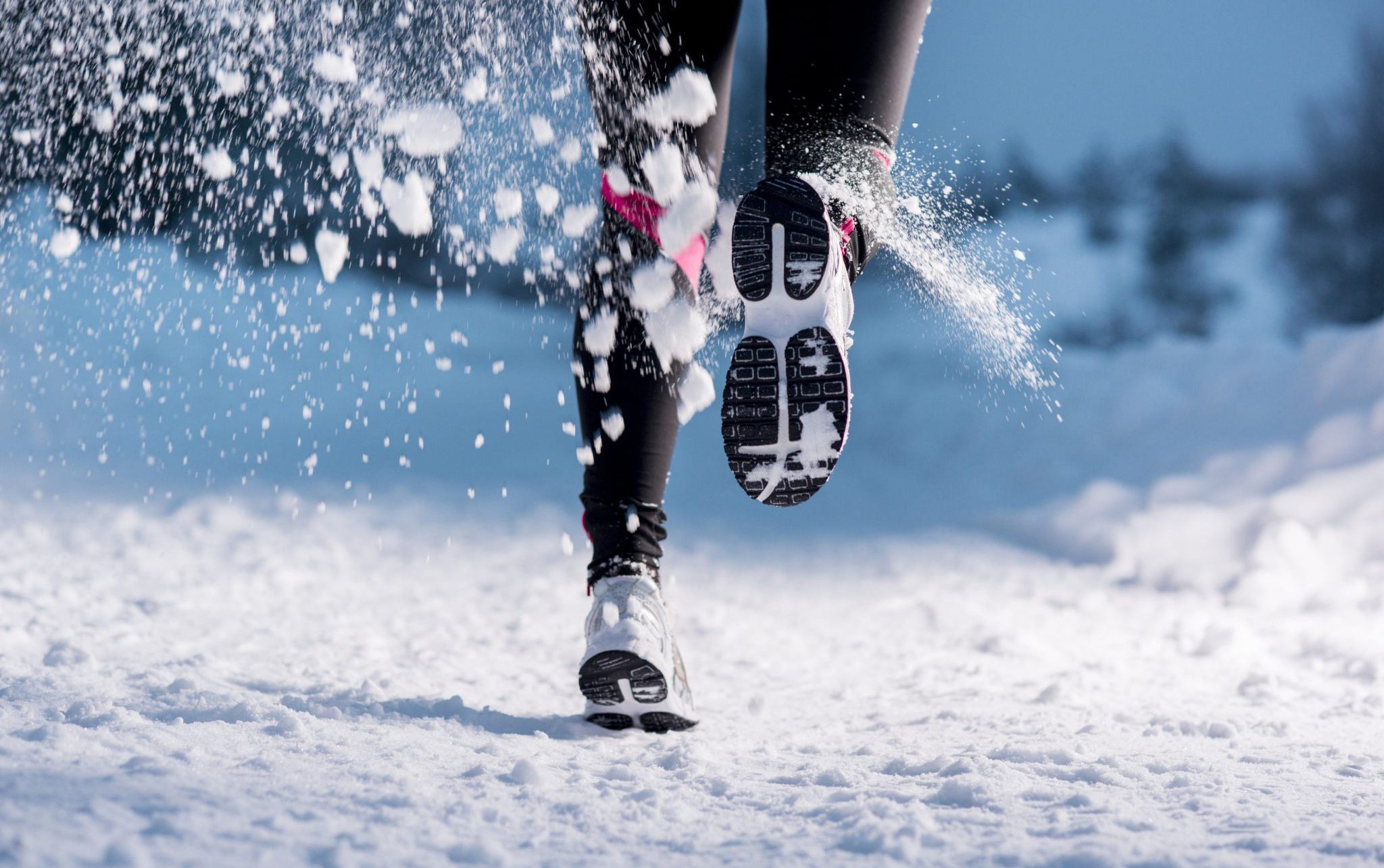 Depending on where you are in the world, the winter months bring a variety of cold types with them. From rain to sleet, snow to ice, and it's essential to know how to dress for each of them. These golden rules give you the basics that you can adapt to suit your climate. After all, you don't want to end up with hypothermia.
1.Layer up
Layers are essential to any winter workout. They help you stay warm, but not too warm. After all, sweating too much in the cold weather can be dangerous for your health. Depending on the temperature, you can go up to three layers, these are:
Baselayer. Tight-fitting and comfortable. Your base layer covers your skin and makes sure you're warm. Avoid cotton fabrics as these trap moisture, so if you sweat, you'll stay wet. Instead, opt for polyester, thermal, Thinsulate, or similar. Base layers come in different weights (lightweight, heavyweight, etc.), so you can choose one to suit the temperature outdoors.
Middle layer. Building on the first layer is the mid-layer. This insulates the body, adding warmth. You might choose a light hoodie, zip-top, or similar. It should be slightly looser than the base layer but still tight enough to your body. Aim for polyester, fleece, or similar fabrics.
Outer layer. The final layer is the outer layer. Think of this like a wind blocker or shell for your body. Slightly loose-fitting, the outer layer protects you from the elements. You can choose a waterproof suit or wind-resistant coat.
2.Waterproof it
Winter brings all types of weather – snow, sleet, the rain that seems like it will never end. But no matter what the weather, you need to make sure you're prepared. Adding a waterproof layer as your top layer will help prevent you from getting soaked through before you even begin. So, whether snow or rain, put on a waterproof jacket or all-in-one suit and get out there.
3.The right accessories
Now that you've got your main clothes sorted, it's time to move on to the accessories. Getting these right will make your time outdoors so much more enjoyable. No more frozen fingers or toes. Here's the accessories you'll need to keep warm outdoors:
Shoes. Those lightweight summer sneakers were great for running, but now winter's here, you might find them too cold and slippy as you pound the sidewalk. Instead, switch them up for something a little sturdier with a firm sole, so you stay stable on your feet.
Gloves. Don't let those pinkies freeze. Cover them up with a pair of gloves. Depending on how cold it is, you can go with a simple pair or something fleece-lined.
Hat. Don't let those ears freeze. Wearing a lightweight hat can keep you warm without overheating. If you go for a warmer style, you may find yourself getting too hot as you work out.
Too cold? Stay indoors
Despite the great benefits of an outdoor workout, sometimes it really is too cold or too slippy to get outdoors. So, if you want to get a workout in but not fancy facing the elements, now's the time to try a home workout. We hear the Verv app has some great ones that you can try in the comfort of your living room.